Trained instructors teach patients the art of riding the waves
New York, NY—August 17, 2018
Hospital for Special Surgery (HSS) made a splash this week with a surfing trip for young patients. Giving new meaning to the term "patient care," the Adaptive Sports Academy at Lerner Children's Pavilion at HSS treated 12 patients, along with some of their siblings, to sand and surf in Long Beach, Long Island.
The Academy enables young people with cerebral palsy or another physical challenge to experience the benefits of exercise. The program's trips and recreational experiences aim to build their self-confidence, encourage independence, and increase physical activity and mobility. The excursions are offered without cost, thanks to the generosity of donors.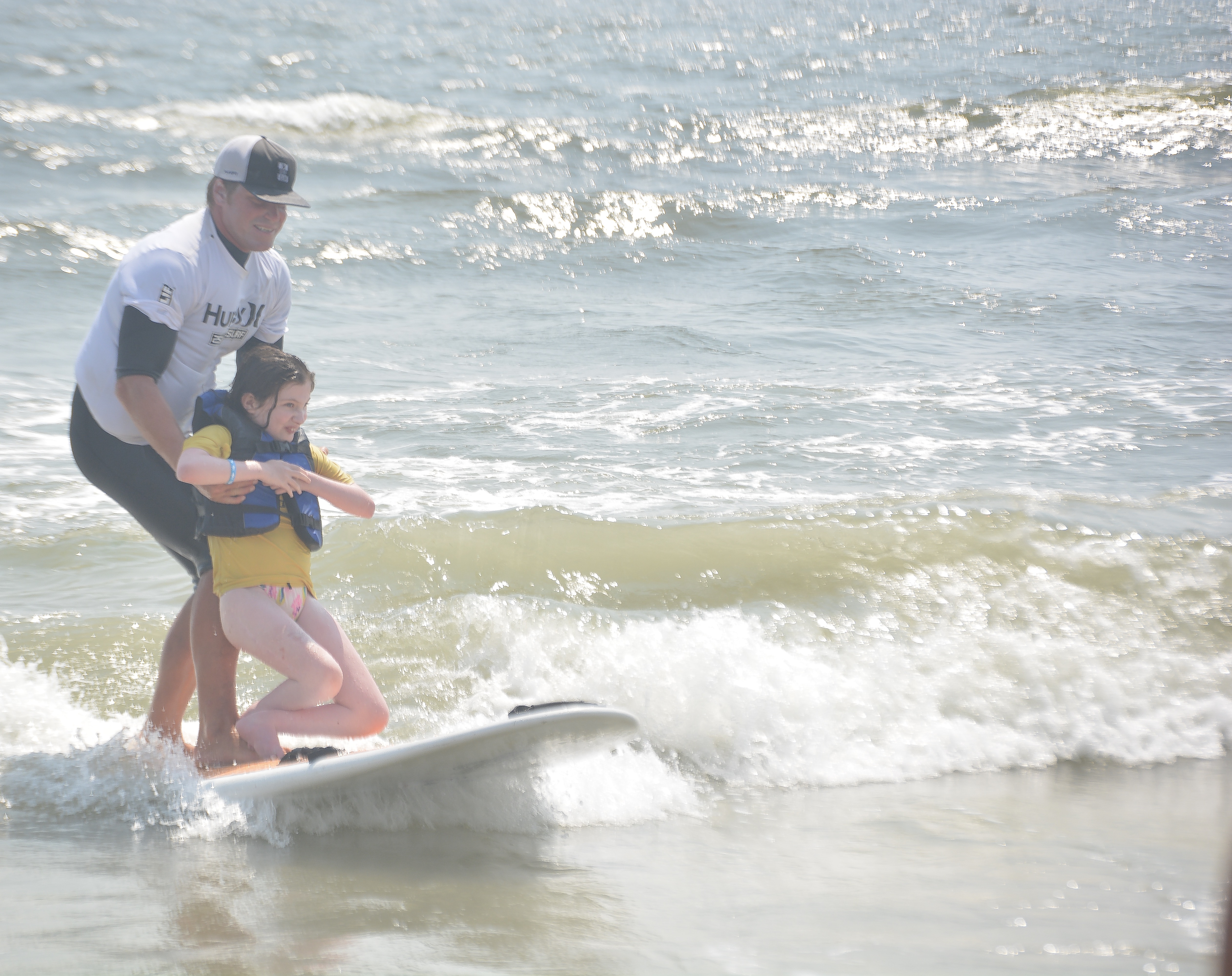 Adaptive surfing and other activities are competitive or recreational sports for people with disabilities. Sometimes rules or equipment is modified to meet the needs of participants. Some are understandably nervous at first, but they almost always exceed their own expectations and have a blast.
Ranging in age from 6 to 22, many patients who signed up for surfing have cerebral palsy or another condition that affects body movement, muscle control, posture and balance. A number of the young people have had multiple surgeries by pediatric orthopedic surgeons at HSS and go there for physical therapy.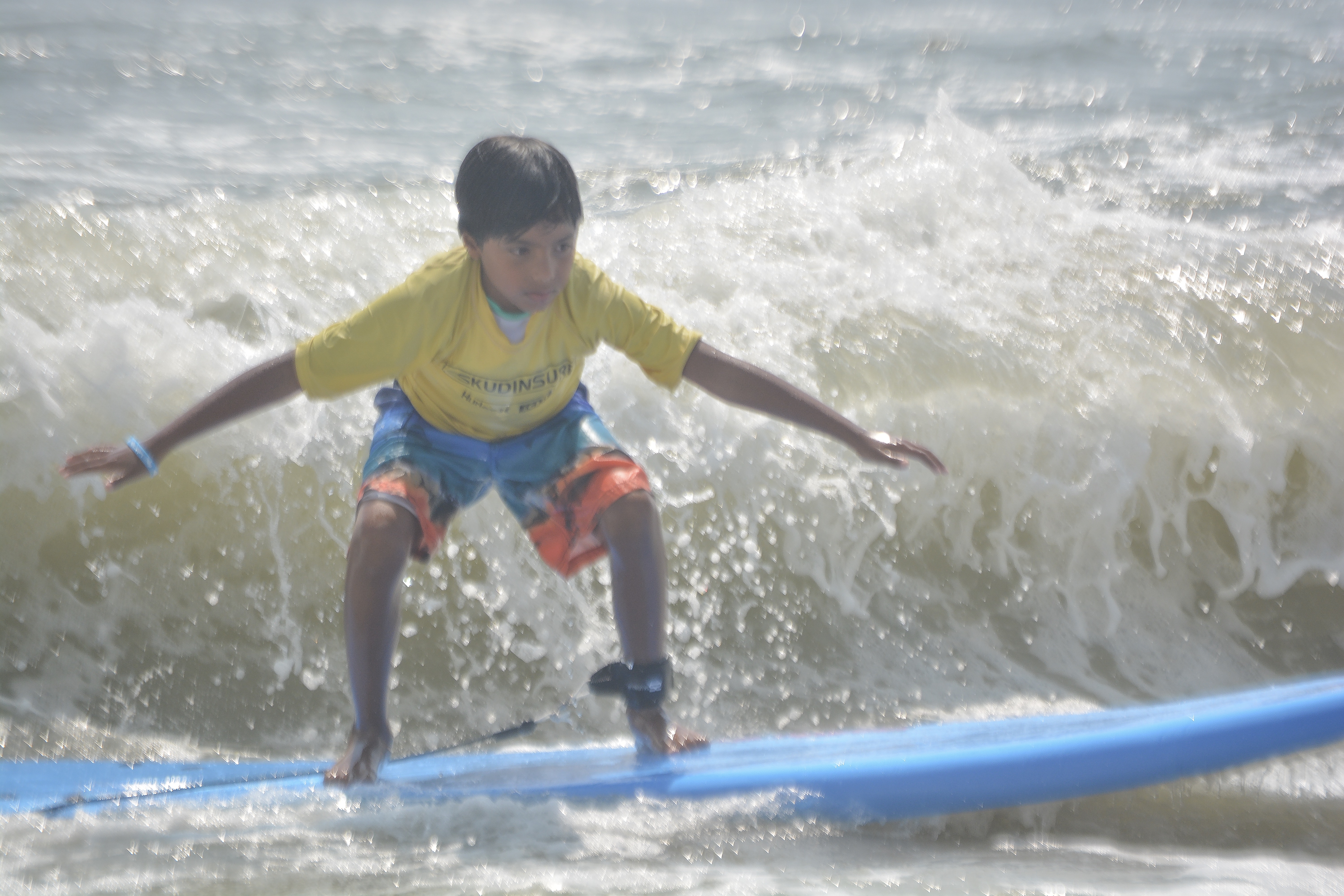 Some used a beach wheelchair to get to the water, but that didn't stop them from climbing on the surfboard. Balancing on a surfboard while in the water would be a challenge for any beginner, but with help from their instructors, many patients experienced the thrill of a lifetime standing on the surfboard while riding a wave.
Six year-old Brooklyn McDonald was excited just talking about it. "It went great, I loved it," she exclaimed. "I caught a lot of waves," she added, already using surfer lingo. Her mom was thrilled to see what her daughter could accomplish. "It was awesome," said Andrea McDonald, who has taken Brooklyn on a number of adaptive sports trips sponsored by HSS. "We try to bring her to these events because it's almost the only opportunity she has to participate in something that's inclusive," she explained.
"These children are fearless, they did so well surfing," said Bridget Assip, a pediatric physical therapist on the trip. "It benefits them because they feel free in the water. They can do things that they may have a harder time doing on land. The families and kids had a great day at the beach and so much fun in the water."
The Adaptive Sports Academy offers a number of fun activities that benefit patients throughout the year, including horseback riding, rock climbing, tennis and basketball. Dancing with the Rockettes is on the agenda for later this year.
About HSS | Hospital for Special Surgery
HSS is the world's leading academic medical center focused on musculoskeletal health. At its core is Hospital for Special Surgery, nationally ranked No. 1 in orthopedics (for the ninth consecutive year) and No. 3 in rheumatology by U.S.News & World Report (2018-2019). Founded in 1863, the Hospital has one of the lowest infection rates in the country and was the first in New York State to receive Magnet Recognition for Excellence in Nursing Service from the American Nurses Credentialing Center four consecutive times. The global standard total knee replacement was developed at HSS in 1969. An affiliate of Weill Cornell Medical College, HSS has a main campus in New York City and facilities in New Jersey, Connecticut and in the Long Island and Westchester County regions of New York State. In 2017 HSS provided care to 135,000 patients and performed more than 32,000 surgical procedures. People from all 50 U.S. states and 80 countries travelled to receive care at HSS. In addition to patient care, HSS leads the field in research, innovation and education. The HSS Research Institute comprises 20 laboratories and 300 staff members focused on leading the advancement of musculoskeletal health through prevention of degeneration, tissue repair and tissue regeneration. The HSS Global Innovation Institute was formed in 2016 to realize the potential of new drugs, therapeutics and devices. The culture of innovation is accelerating at HSS as 130 new idea submissions were made to the Global Innovation Institute in 2017 (almost 3x the submissions in 2015). The HSS Education Institute is the world's leading provider of education on the topic on musculoskeletal health, with its online learning platform offering more than 600 courses to more than 21,000 medical professional members worldwide. Through HSS Global Ventures, the institution is collaborating with medical centers and other organizations to advance the quality and value of musculoskeletal care and to make world-class HSS care more widely accessible nationally and internationally.