Manchester, Eng.—July 16, 2010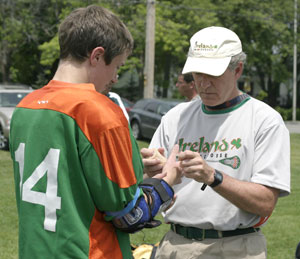 John Cavanaugh, PT, MEd, ATC, SCS, is seeing lot of green in July. But not money – no, the Hospital for Special Surgery physical therapist is seeing bright green in uniforms and shamrocks for luck in his role as the team director and head athletic trainer of the Irish National Lacrosse team during the World Lacrosse Championships.

As the team director, Cavanaugh is responsible for running the National team smoothly and logs a lot of time doing administrative work. He also acts as Ireland's delegate to the International Lacrosse Organization.

"Every country has a representative voting on issues that affect men's and women's lacrosse, and for Ireland, I am that representative," said Cavanaugh, who is also a clinical supervisor in the Sports Rehabilitation and Performance Center at HSS.

But Cavanaugh hasn't always been in charge – he started out with the team in 2002, after a movement to get the sport started again in Ireland put together a team and asked him to be the athletic trainer.

"It was a game that was played in Ireland in the 1800s," explained Cavanaugh. "After the team was put together, we went on an exhibition tour of Ireland in 2003 to gather interest in the sport, and then in 2005 we entered the European Championships in Prague."

The team also competed in the Celtic Cup tournament in 2005 and then in their first World Lacrosse Championships in Ontario in 2006.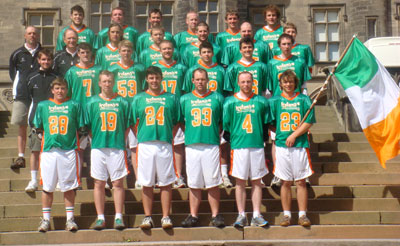 During these tournaments, Cavanaugh was kept busy in his role as athletic trainer in prevention, management and rehabilitation of injuries as they happened. That experience undoubtedly proved invaluable in working with other professional teams, including his stint as an official athletic trainer for the U.S. Olympic team in Beijing in 2008.

But in Beijing, the primary sport he worked with was swimming; according to Cavanaugh, lacrosse requires a slightly different mindset.

"Lacrosse is a game which has a lot of injuries: separated shoulders, lower extremity injuries, head injuries," Cavanaugh said. "It is a contact sport where giving advice from afar is difficult, so I do my best to be there for the team when they need me."

With the addition of the title of director, Cavanaugh now has to do the same injury prevention and physical therapy work as before but also handles many new responsibilities.

"I now take care of all of the preparations for tournaments and championships: logistics of training camps, arranging flights, gathering equipment, assigning apparel, coordinating liaisons and scheduling exhibition games," he said. "I get to wear a lot of hats."

It's hard work, but Cavanaugh finds it rewarding.

"As an Irish-American with roots in Ireland, I do have a lot of pride in seeing the sport grow there. There are four club teams [in Ireland], and the women's game has taken off as well; a couple hundred people play lacrosse there now, and eight years ago that number would have probably been less than 10," he said. "It's nice to be a part of this movement and be making any contribution that I can, not just from a sports medicine perspective, but also as a sports administrator."

The Championships, which are being held in Manchester, England, from July 10 – 24, happen every four years and feature teams from all over the world as they vie for the title.  In 2006, Cavanaugh's Irish team took 7th overall in the tournament, with Canada taking the title.
About HSS | Hospital for Special Surgery
HSS is the world's leading academic medical center focused on musculoskeletal health. At its core is Hospital for Special Surgery, nationally ranked No. 1 in orthopedics (for the eighth consecutive year) and No. 3 in rheumatology by U.S. News & World Report (2017-2018). Founded in 1863, the Hospital has one of the lowest infection rates in the country and was the first in New York State to receive Magnet Recognition for Excellence in Nursing Service from the American Nurses Credentialing Center four consecutive times. The global standard total knee replacement was developed at HSS in 1969. An affiliate of Weill Cornell Medical College, HSS has a main campus in New York City and facilities in New Jersey, Connecticut and in the Long Island and Westchester County regions of New York State. In 2017 HSS provided care to 135,000 patients and performed more than 32,000 surgical procedures. People from all 50 U.S. states and 80 countries travelled to receive care at HSS. In addition to patient care, HSS leads the field in research, innovation and education. The HSS Research Institute comprises 20 laboratories and 300 staff members focused on leading the advancement of musculoskeletal health through prevention of degeneration, tissue repair and tissue regeneration. The HSS Global Innovation Institute was formed in 2016 to realize the potential of new drugs, therapeutics and devices. The culture of innovation is accelerating at HSS as 130 new idea submissions were made to the Global Innovation Institute in 2017 (almost 3x the submissions in 2015). The HSS Education Institute is the world's leading provider of education on the topic on musculoskeletal health, with its online learning platform offering more than 600 courses to more than 21,000 medical professional members worldwide. Through HSS Global Ventures, the institution is collaborating with medical centers and other organizations to advance the quality and value of musculoskeletal care and to make world-class HSS care more widely accessible nationally and internationally.