NEW YORK—June 2, 2008
Tapped by the U.S. Olympic Committee to join its medical team, Hospital for Special Surgery sports medicine experts, orthopedist Scott A. Rodeo, M.D., and physical therapist John Cavanaugh are among a group of about 30 health-care professionals chosen to protect the health of the nation's elite athletes at the August 8-24 games in Beijing.
"It is an honor to be selected," said Mr. Cavanaugh, who will serve the team as an athletic trainer. On call or on duty 24/7, the team's volunteer medical professionals welcome the honor and exhilaration of the appointment.
Dr. Rodeo and Mr. Cavanaugh have both been assigned to swimming as their primary sport. As team physician, Dr. Rodeo will also cover diving, water polo, and other events. Dr. Rodeo and Mr. Cavanaugh anticipate additional assignments once the swimming events are over.
The screening and selection process for the medical team requires both long-time personal involvement and dedication to sports, as well as participation as a sports medicine professional in progressively significant national and international sports events.
Dr. Rodeo first served as a member of the U.S. Olympic Medical Team at the Athens Olympics in 2004. Dr. Rodeo is Associate Team Physician for the New York Giants, and medical consultant for Asphalt Green, a local swimming club in New York City. Also, like many other clinicians who serve in this role, he was a college athlete. A top-level member of the swimming team at Stanford University for two years, where he qualified for the NCAA National Championships, Dr. Rodeo said that he got involved with the USA Swimming program to pay tribute to the people who helped inspire his career.
"Swimming is a great sport; there are good people in the sport, and it's a good way to give back," said Dr. Rodeo. He added, "It's a fun way to take care of the top level athletes, and I learn by doing it."
Mr. Cavanaugh shares his HSS colleague's longstanding history of involvement in sports and sports medicine. A competitive soccer player while in college and after graduation, Mr. Cavanaugh has been team physical therapist at the United States Merchant Marine Academy in Kings Point, N.Y., for the past 22 years.
A certified athletic trainer, he was selected by the USOC to serve on the U.S. Medical Staff at Pan-American Games last summer in Rio, Brazil. Earlier appointments included service as a member of the Medical Staff at the World University Games in Izmir, Turkey and an appointment as head athletic trainer for the USA Swimming Team at the 2006 World Short Course Championships in Shanghai, China. Mr. Cavanaugh has also worked extensively with the Republic of Ireland's lacrosse program since its inception in 2002, overseeing medical operations for competitions in Australia, Wales, the Czech Republic and Canada.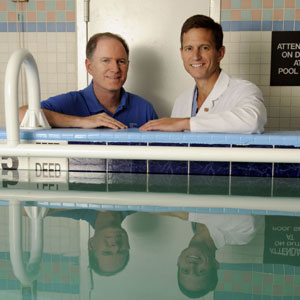 click image to enlarge

Scott A. Rodeo, M.D., orthopedist, (right) and John Cavanaugh, physical therapist, prepare to treat the nation's best at this summer's Olympic Games in Beijing.
As part of the rigorous screening and qualifying process, both specialists have traveled to Colorado Springs to staff a 24-hour medical clinic at the Olympic Training Center and to care for any injured athletes there. The internship serves as an opportunity for the USOC to evaluate doctors and other health-care professionals and assess their interaction with the athletes and the style in which they care for athletic injuries.
Discussing his previous experience at the Olympics, Dr. Rodeo said that clinicians are consulted for a wide variety of problems. "You're almost doing everything but orthopedics. They'll come to you with everything -- to the athletes you're just 'Doc,'" said Dr. Rodeo.
"Among swimmers, as well as other athletes, injuries that occur at major sports events are most often related to over-use such as rib stress fractures, tendonitis, impingement syndrome in the shoulder, and some low back pain," said Mr. Cavanaugh. As a trainer and physical therapy specialist, he works closely with the others on the medical team to treat and prevent a vast assortment of physical problems such as shoulder pain and back spasms requiring massage and soft tissue work, as well as icing and other rehabilitation techniques.
A distinctive quality of sports medicine at competitive events is that taking a few days off to rest and recover is not really an option. The sports medicine experts are challenged to use all their skills to address pain and injury in the moment. Dr. Rodeo said that about half of the swimming injuries are musculoskeletal -- mostly shoulder and knee pain. But, occasionally he sees injuries that are more severe.
"Part of our role is to treat them and rehabilitate them to get them back as fast as possible, while at the same time truly knowing when someone should be disqualified or when they shouldn't compete," said Dr. Rodeo.
Dr. Rodeo said that it is not obvious to outside observers that making time adjustments necessary to ensure live television coverage in the United States presents swimmers with one of their biggest challenges. "Swimmers are retraining themselves to swim earlier in the morning since they will be waking up very early to warm up, eat, and then prepare to compete in the medal finals in the morning, rather than having the finals in the evening as has always been the tradition in the past," he said. "Since fractions of seconds count, every nuance of an athlete's state of health can make a difference, and we are especially attuned to addressing any sign of fatigue or strain linked to this change of routine to avoid injury and maximize performance."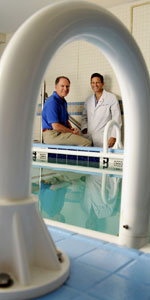 click image to enlarge

Rodeo (right) and Cavanaugh have interned at the Olympic Training Center in Colorado and will continue their on-site training.
Dr. Rodeo and Mr. Cavanaugh will begin their Olympic Medical Team responsibilities on-site at the training camp for swimming in Singapore prior to the games.
The U.S. medical team will then staff its own clinic for the U.S. team in the Olympic Village. Mr. Cavanaugh said that he expects it will be exceptionally well equipped to handle everything from common travel-related illnesses such as colds, asthma, travelers' diarrhea, urinary tract infections, and rashes, as well as trauma, cardiac and pulmonary emergencies. Medical team members will also deal with dehydration and nutritional issues and supervise athletes during random and scheduled drug testing in compliance with Doping Control rules. Mr. Cavanaugh said that U.S. athletes are screened prior to leaving for China and their full medical history is made available to the medical team in the event that they require treatment. He said that now, more than ever, athletes are required to provide detailed documentation justifying prescriptions for asthma or other conditions.
Participation on an Olympic Medical Team gives doctors and therapists the opportunity to learn from the elite level athletes about how quickly the body can recover, and it gives them an opportunity to observe some of the latest rehabilitation techniques and therapies at work.
"You learn a lot from these athletes, you learn how good it can be, you learn the quickest way you can rehabilitate someone," said Dr. Rodeo.
The experience working with the Olympic athletes informs the approaches that are used for treatment and rehabilitation at HSS. Dr. Rodeo and Mr. Cavanaugh agree that the general principles of treating Olympic athletes and recreational athletes are the same -- both want to get back to their sports as quickly as possible and avoid injuring themselves again.
Ideally, there will be no injuries at the Olympics. But, given that world-class athletes are pushing their bodies to achieve more than they - or anyone else - has achieved, sports medicine experts are assembled -- ready to provide treatment if any physical injury occurs.

Read U.S. Olympic Team Physician Scott Rodeo's blog from Beijing at http://olympicsmd.blogspot.com/.