Department of Neurology Offers Patients Virtual Appointment Options
Providing quality patient care and experience is a priority across all departments at HSS. In early 2017, the Department of Neurology began implementing new technology to make care more accessible and convenient through TeleHealth, a web-based telemedicine portal that allows HSS physicians to conduct virtual appointments with patients.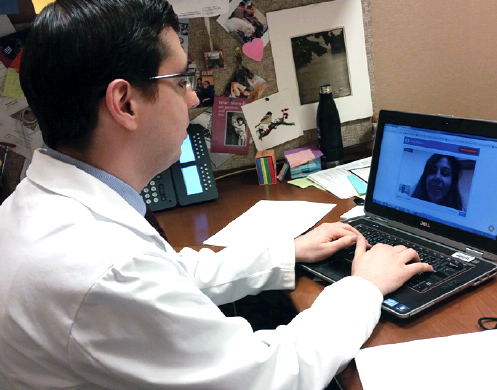 According to Dale J. Lange, MD, Chairman of Neurology and Neurologist-in-Chief at HSS, TeleHealth works just like Skype or FaceTime, but in a HIPAA-compliant network that ensures the safety and security of patient information. Patients can make a formal appointment, but instead of coming to HSS to see a physician, the appointment is conducted virtually.
"Many of our patients find it difficult to come to HSS because of weakness," said Dr. Lange. "TeleHealth enables us to visit real-time and address urgent and non-urgent needs without waiting for appointments."
TeleHealth provides a perfect venue to conduct a virtual appointment and observe the patient. We are able to obtain an interactive history and form a thorough analysis of language and movement. With TeleHealth, physicians can now see the quizzical look on a patient's face or observe their body language while speaking with them.
To date, more than 10 patient encounters have taken place via TeleHealth. The patients who have used the technology have been extremely pleased with the results. They feel as though they are having a personal visit with their treatment team in their own home. It is convenient and easy, especially for those who live far away from HSS or have difficulty traveling into Manhattan.
"This gives us a different option, and now it has become part of my routine to give patients the option to follow up with me to discuss lab results, care management or answer questions," said Dr. Lange. "Many people come from far away to see us for our diagnostic expertise. There is not always a need to have an in-person visit when a face-to-face TeleHealth visit would suffice."
TeleHealth puts HSS at the forefront of a national shift toward providing patients with high-quality, convenient virtual care options in addition to the traditional ways that we deliver care. Dr. Lange sees telemedicine expanding in the department and in medicine in general, becoming integrated throughout other departments across HSS.
Recent studies have shown about 40% of follow-up care typically provided by neurologists can be conducted remotely through video-based telehealth. Telemedicine for neurology has made it possible to offer convenient, routine follow-ups for all patients. Ninety-eight percent of patients using teleneurology are just as satisfied with remote care as they are with in-person care.
In addition, 95% of neurology patients who begin receiving remote follow-up care want to continue it.

(Adapted from an article by Marisa DeFilipps in the April 2017 issue of Neuromuscular News.)