Online Education Activity
Hospital for Special Surgery and the National Association of Pediatric Nurse Practitioners (NAPNAP) have collaborated to provide an online continuing education activity available through NAPNAP's online learning community, PNPSourCE. This online activity captures learning activities populated from the
13th Annual Sports Medicine for the Young Athlete activity held on February 26, 2011.
Upon completion of this online activity, Pediatric Nurse Practitioners will be able to:
Recognize specific issues for the adolescent thrower
Develop strategies for throwing injury prevention
Recognize specific issues for the obese teen athlete
Discuss childhood obesity national trends, disparities among race, ethnicity and gender as well as prevention strategies
Better recognize and treat adolescent concussion
This educational modality is available to NAPNAP members at a reduced rate. If you are not a member, please click here to visit the NAPNAP Member Center and access the New Member Application.
To access this online education activity, please review the presentations from the 13th Annual Sports Medicine for the Young Athlete and then complete the post-tests for each presentation.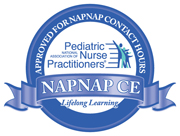 NAPNAP designates this online activity for 0.5 contact hours for each session.
For upcoming professional education programs and
CME courses, please visit CME/Professional Education Calendar.