Knitting Together a New Life: Spinal Fusion for Scoliosis
At 14, Jessica Boertzel participated in a scoliosis screening at her school that led to a diagnosis of severe spine curvatures of more than 80 degrees.

Jessica was referred to HSS where she was seen by Matthew E. Cunningham, MD, PhD, assistant attending orthopedic surgeon and scientist at HSS, who told her she needed spinal fusion surgery to straighten and stabilize her spine. Spinal fusion surgery induces the "knitting together" of vertebrae into a single, solid bone, providing help for chronic back pain and spine deformities.

"In youngsters like Jessica, the challenge is to correct and stabilize the spine while preserving as much potential bone growth as possible," explains Dr. Cunningham.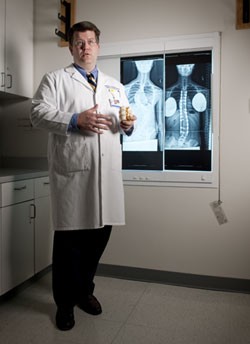 Dr. Cunningham compares Jessica's x-rays from before and after her surgery.
"Dr. Cunningham was very clear about what to expect," says Jessica's mother, Joan. "We had complete trust in him."

In July 2009, Jessica underwent a six-hour procedure in which metal rods and screws were attached to her spine, and the scoliosis was corrected. The instruments help the bones to fuse, and remain in place after fusion to reinforce the spine correction, minimizing the need for further surgery.

One year later, 16-year-old Jessica is 2 inches taller with only 30 degree curves. She can participate fully in all typical teen activities and outings, like a run on the beach.

"I'm so thankful to Dr. Cunningham and the staff at HSS," says Jessica. "I feel great and positive about the future."

Dr. Cunningham and HSS scientists are investigating a noninvasive technique for spine fusion that may reduce the need for surgery in many cases, promote faster healing for degenerative disc disease, and serve as an early intervention for progressive scoliosis.

The method involves harnessing the healing power of bone morphogenetic proteins (BMPs), which support bone and cartilage development. Studies suggest that an injection of BMP into the spine discs may allow new bone growth and spine fusion to follow.

"We could minimize time in the operating room and decrease or eliminate hospital stays," says Dr. Cunningham, "while posing less risk and anxiety to patients."
This story first appeared in the Spring 2011 issue of Discovery to Recovery, the HSS research newsletter.