Greenberg Academy for Successful Aging
Greenberg Academy for Successful Aging is a collaborative program between the Hospital for Special Surgery Public and Patient Education Department and NewYork-Presbyterian Hospital's Irving Sherwood Wright Center for the Aging, primary care medical practice serving older adults. Our program develops and implements health education programs aimed at the interests and needs of people age 65 and over.

Upcoming Programs

We offer a variety of programs including lectures, workshops, a support group, and exercise classes focusing on topics that address enhancing quality of life as we age, building strength and fitness through dance and falls prevention classes, and overall wellness. Many of the events are free or some may have a low fee.

For more information or to receive a copy of the Education to Empowerment brochure by mail, please contact Linda Roberts, LCSW at robertsl@hss.edu or 212.774.7041.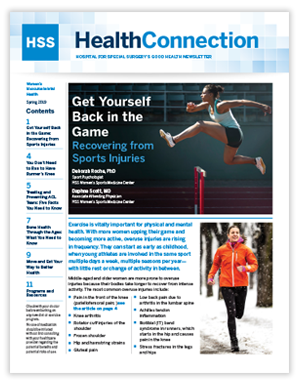 HealthConnection
Women's Musculoskeletal Health