Green DW, Price MJ, Quadricepsplasty Operative Techniques. In: Patellar Instability: Management Principles and Operative Techniques, 1st ed. USA: Wolters Kluwer; 2019.
Green DW, Price MJ, Moloney J. Patellofemoral Pain in the Skeletally Immature Patient: Diagnosis and Treatment. In: Patellofemoral Pain and Instability: Etiology, Diagnosis and Management. Switzerland: Springer; 2019: 3-25.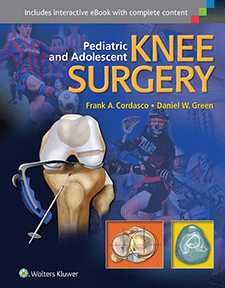 Pediatric and Adolescent Knee Surgery
USA: Wolters Kluwer Health; 2015
This new print and interactive eBook resource written by Dr. Cordasco and Dr. Green offers:
Comprehensive coverage of the increasing numbers of pediatric and adolescent knee injuries commonly seen by orthopaedic surgeons.
Step-by-step guidance on various methods of treating ACL injuries, patellofemoral instability, osteochondritis dessicans, discoid meniscus, epiphyseal injury and adolescent fractures, and growth plate surgery.
More than 330 full-color illustrations that clearly depict the details of each procedure.
A concise and relevant review of anatomy, imaging, and epidemiology.
Authoritative coverage of the specific issues in children and adults that require a different approach from adult patients.

Chapters written by Dr. Green include:
Green DW, Cordasco FA. Introduction. 1-4.
Green DW, Cordasco FA, Gausden EB. Technique: Anterior Cruciate Ligament Reconstruction: All-Epiphyseal Sockets. 53-60.
Green DW, Cordasco FA. Brief Overview of Surgical Anterior Cruciate Ligament Options: Algorithm Based on Skeletal Age. 74-77.
Green DW, Gausden EB. Medial Patellofemoral Ligament Reconstruction: Hamstring Technique. 140-147.
Green DW, Uppstrom TJ, Haskel JD. Bioabsorbable Fixation of Symptomatic Juvenile Osteochondritis Dissecans Lesions in Children and Adolescents. 207-212.
Green DW, Munch J, Voigt M, Rodeo SA. Surgical Techniques for Treatment of Symptomatic Discoid Meniscus. 236-242.
Green DW, Nwachukwu BU. Tibial Spine Avulsion Fractures: Overview and Arthroscopic Technique for Internal Fixation with Cannulated Screws. 261-267.
Green DW, Haskel JD, Shin YW. Applications of Implant-Mediated Guided Growth in Pediatric Knee Surgery. 327-335.

Green DW. Surgical Treatment of Pediatric Patella Instability. In: Die Therapie Der Instabilen Patella. Zurich: AGA-Komitee-Knie-Patellofemoral; 2016: 80-90.
Cordasco FA, Black SR, Price M, Wixted C, Heller M, Asaro LA, Nguyen J, Green DW. Return to Sport and Reoperation Rates in Patients Under the Age of 20 After Primary Anterior Cruciate Ligament Reconstruction: Risk Profile Comparing 3 Patient Groups Predicated Upon Skeletal Age. Am J Sports Med. 2019
Richmond CG, Green DW, Cannamela PC, Martinson D, Shea KG. The Distance Between the Hamstring Grafts and the Physis and Apophysis of the Proximal Tibia – Implications for Pediatric ACL Reconstruction and Physeal Arrest. J of ISAKOS. 2018
Shin YW, Trehan SK, Uppstrom Tj, Green DW. Radiographic Results and Complications of 3 Guided Growth Implants. J Ped Ortho. 2018
Green DW, Tuca M, Luderwski E, Gausden E, Goodbody C, Konin G. A New, MRI-Based Classification System for Tibial Spine Fractures Changes Clinical Treatment Recommendations when Compared to Meyers and McKeever. Knee Surg Sports Traum Arthro. 2018
Haskel JD, Uppstrom TJ, Dare DM, Rodeo SA, Green DW. Decline in Clinical Scores at Long-Term Follow-Up of Arthroscopically Treated Discoid Lateral Meniscus in Children. Knee Surg Sports Traumatology Arthroscopy. 2018
Price MJ, Tuca M, Nguyen J, Silberman J, Luderowski E, Uppstrom TJ, Green DW. Juvenile Osteochondritis Dissecans of the Trochlea: A Cohort Study of 34 Trochlear Lesions Associated With Sporting Activities that Load the Patellofemoral Joint. J Ped Ortho. 2018
Keyes S, Price M, Green DW, Parikh SN. Special Considerations for Pediatric Patellar Instability. Am J Orto. 2018
Lazaro LE, Ahn J, Cordasco FA, Green DW. Review of Different Surgical Techniques for All-Epiphyseal Anterior Cruciate Ligament Reconstruction. Ped Ant Cru Lig, pp. 137-145. 2018
Liu JN, Steinhaus ME, Kalbian IL, Post WR, Green DW, Strickland SM, Shubin Stein BE. Patellar Instability Management: A Survey of the International Patellofemoral Study Group. Am J Sports Med. 2017
Brady JM, Sullivan JP, Nguyen J, Mintz D, Green DW, Strickland S, Shubin Stein BE. The Tibial Tubercle-to-Trochlear Groove (TT-TG) Distance is Reliable in the Setting of Trochlear Dysplasia and Superior to the Tibial Tubercle-to-Posterior Cruciate (TT-PCL) Distance When Evaluating Coronal Malalignment in Patellofemoral Instability. Arthroscopy. 2017
Price MJ, Lazaro L, Cordasco FA, Green DW. Surgical Options for Anterior Cruciate Ligament Reconstruction in the Young Child. Minvera Ped. 2017
Ahn J, Carter E, Raggio CL, Green DW. Acetabular Protrusio in Patients with Osteogenesis Imperfecta: Risk Factors and Progression. J Ped Ortho. 2017
Graziano J, Chiaia T, de Mille P, Nawabi DH, Green DW, Cordasco FA. Return to Sport for Skeletally Immature Athletes after ACL Reconstruction: Preventing a Second Injury Using a Quality of Movement Assessment and Quantitative Measures to Address Modifiable Risk Factors. Ortho J Sports Med.
Benedict Nwachukwa, Conan So, William Schairer, Beth Shubin-Stein, Sabrina Strickland, Daniel Green, Emily Dodwell. Economic Decision Model for First-Time Traumatic Patellar Dislocations in Adolescents. Am J Sports Med. 2017.
Price MJ, Tuca M, Cordasco FA, Green DW. Nonmodifiable Risk Factors for Anterior Cruciate Ligament Injury. Curr Opin Ped. 2017
Uppstrom TJ, Haskel JD, Gausden EB, Meyer R, Shin YW, Nguyen JT, Green DW. Reliability of Predictive Models for Non-Operative Healing Potential of Stable Juvenile Osteochondritis Dissecans Knee Lesions. Knee. 2016