Great Performances: Staying on Point - Hallux Ridigus and Foot Surgery
Years of punishing dance routines had finally taken their toll on Cady Huffman. "I was a ballet dancer growing up and danced on my toes a lot," says the Broadway star, who also performs in film and television. "I banged my feet around quite often throughout my childhood. As a professional, I was dancing in high heels all the time, constantly jamming my toes – even performing en pointe for different shows. My toes have never been terribly flexible, so I would just force them because that's what you do."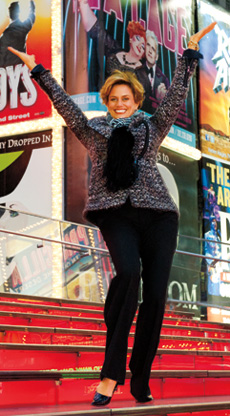 Cady Huffman, Broadway actress
Through all of her ballet training, Ms. Huffman notes that "my wiring was to deny any pain in my feet. My brain didn't compute a whole lot of pain until it was dire." In fact, during the run of The Producers, for which Ms. Huffman won the Tony Award, she danced in constant pain, learning to 'grin and bear it.'
In 2005, a physical therapist suggested she see Martin J. O'Malley, MD, at Hospital for Special Surgery. "Cady is a singer and a dancer, but she describes herself as a 'hoofer,'" says Dr. O'Malley, who diagnosed her condition as hallux rigidus – arthritis of the joint of the big toe that causes pain and stiffness, and in time makes it increasingly hard to bend the toe. "This condition is not uncommon in dancers. It's progressive and quite disabling because of the amount of time that they have to be on the ball of the foot – even in plain shoes. And if you've seen pictures of Cady on stage, she's wearing five-inch heels!"
In order to save the joint and allow Ms. Huffman to experience full mobility and less pain, Dr. O'Malley performed a cheilectomy, a shaving of bone spurs around the joint margin of the big toe. "We did both of her feet at the same time because the issue was how quickly she could return to her next role," says Dr. O'Malley. "The surgery improved her range of motion, she can now get into different shoes for her various roles, and she's better able to dance."
Two weeks after surgery, Ms. Huffman was walking on her feet fully, and within three weeks, she attended a wedding with members of the Giants and Yankees management. "They were all stunned because I was dancing at the wedding," she says. "They told me that I was tougher than any football player they had ever seen!
"I'm an excellent patient," agrees Ms. Huffman. "When I get an instruction from my doctor to do this on this day and that the following week, that's exactly what I do. I've always been very focused. And because I do more than I need to, I tend to heal more quickly. "Today my feet are leagues beyond what they were before surgery and are doing much better than I ever thought they would be again. I love Hospital for Special Surgery, and I recommend it all the time."

This story first appeared in the Spring 2011 issue of Horizon, the HSS news magazine.