Severe Lupus Nephritis (LN) with Response to Aggressive Multimodal Management
This case appears in the HSS publication, Grand Rounds from HSS - Management of Complex Cases, Fall 2012 - Volume 3, Issue 3, Case 1
Case 1, presented by Nancy Pan, MD, a recent graduate of our Pediatric Rheumatology Training Program, Kyriakos A. Kirou, MD, and their colleagues, describes a woman with lupus nephritis who developed a dramatic exacerbation of her disease, including lifethreatening hypertension and massive proteinuria. Two renal biopsies, performed during two distinct flares, demonstrated the evolution of changes consistent with chronic damage. Aggressive immunosuppressive and antihypertensive therapy, using multiple agents, resulted in significant clinical improvement.
Read full case details in Volume 3, Issue 3 of Grand Rounds - Complex Cases.
Click on the image to enlarge and read the captions.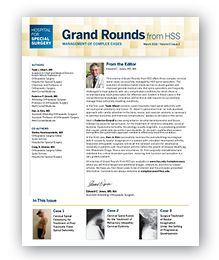 Return to the Grand Rounds - Complex Cases Main Page
to receive new
Grand Rounds - Complex Cases
issues via email, as well as updates on other professional publications from Hospital for Special Surgery.