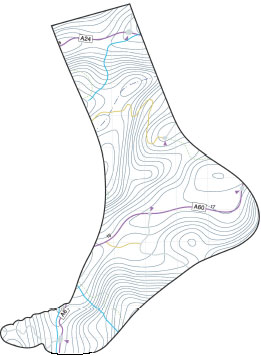 Pediatric orthopaedic surgeons at HSS have incorporated a variety of surgical navigation and other enhanced visualization technologies into foot and ankle procedures over the last several years to improve accuracy — and potentially results. Here, Peter Fabricant, MD, MPH, and David Scher, MD, explain in their own words how blending these techniques has helped make them more precise and confident during these often-challenging repairs.
Peter Fabricant
About a year ago, I began merging intraoperative scanning with arthroscopy for minimally invasive surgery on adolescent patients with transitional ankle fractures. This is a relatively rare fracture involving a still-open growth plate. Arthroscopy offers both functional and cosmetic benefits. Since these fractures tend to be in the front of the ankle where we lace shoes, a big incision can be uncomfortable there. The incision for an arthroscopic procedure is about 5 mm wide, as opposed to the 5 cm one required in the traditional open approach, with much less dissection of the soft tissues around the ankle joint and growth plate. Furthermore, visualization of the entire joint is frequently better with an arthroscope than with an open approach, which is best suited for seeing the front of the joint. Intraoperative scanning also offers enhanced view with more detail than x-ray, but without the radiation level of a CT scan. These two techniques together provide sufficient visualization to help me obtain anatomic joint alignment and avoid placing screws too close to the growth plate or joint surface, which is vital to preventing potential bone deformities or osteoarthritis later on.
David Scher
I use intraoperative 3D fluoroscopic imaging along with surgical navigation to improve the accuracy of tarsal coalition surgery, a procedure that removes an abnormal connection between bones in the foot that can cause pain and limit motion. We began using intraoperative 3D fluoroscopy in pediatric foot and ankle procedures at HSS about five years ago to improve the outcomes of our surgeries. About two years ago I added surgical navigation to enhance the accuracy of the surgery. This technology allows me to be very confident I'm getting out exactly what I want, not leaving any bone behind and not injuring any healthy bone or cartilage. At the moment, we're prospectively studying our results to better understand who will benefit most from these procedures and assess their outcomes. Down the road, these technologies may allow us to develop minimally invasive techniques.

Video - Minimally Invasive Foot & Ankle Surgeries for Pediatric Patients
Back to HSS Annual Report 2018-19