David W. Altchek, MD at HSS Florida
Orthopedic Surgery, Sports Medicine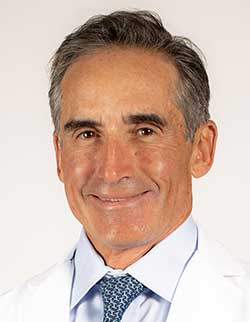 Dr. David W. Altchek is the founding medical director at HSS Florida and is an experienced orthopedic surgeon with exceptional expertise in sports medicine. He specializes in shoulder surgery, elbow injuries and traumas, and total shoulder and knee replacement surgeries.
He has authored over 100 articles and publications on injuries, trauma, and conditions in the shoulder, elbow and knee. He has also been the recipient of several prestigious awards in orthopedics, including the T. Campbell Thompson Award for Outstanding Achievement in Orthopaedic Surgery, the Eastern Orthopaedic Association Fellowship Award, and the Charles S. Neer Award for American Shoulder & Elbow Surgeons.
Dr. Altchek's notable experience includes serving as the Medical Director for the New York Mets and a medical consultant for the NBA. He has also served as the North American Medical Director for the Association of Tennis Professionals and was the former Team Physician for the U.S. Davis Cup tennis team. In addition, Dr. Altchek is a Professor of Clinical Orthopaedic Surgery at Weill Cornell Medical College.
David W. Altchek, MD - Orthopedic Specialties
Dr. Altcheck specializes in the following conditions and treatments:
sports medicine
ACL reconstruction of the knee
knee arthroscopy
arthroscopic surgery of the shoulder
rotator cuff
UCL reconstruction of the elbow
total shoulder replacement surgery
total knee replacement surgery
Notable Awards
Below are some of the notable awards won by Dr. Altchek for his care and expertise as an orthopedic physician and surgeon.
Castle Connolly America's Top Doctors, 2002-2020
Castle Connolly Top Doctors in New York Metro Area, 2002-2019
New York Magazine Top Doctors, 2002-2019
T. Campbell Thompson Award for Outstanding Achievement in Orthopaedic Surgery
Eastern Orthopaedic Association Fellowship Award
John Jay Award for Distinguished Professional Achievement
Charles S. Neer Award, American Shoulder & Elbow Surgeons
Named one of the top 250 Alumni, Columbia University
Patient Stories