The Expert's Experts: Treatment for Juvenile Arthritis
When Gabrielle Ayoub was just 2 years old her mother noticed that she was limping and that her knee was swollen. The pediatrician thought it might be pauciarticular juvenile arthritis, a form of childhood arthritis that typically affects large joints such as the knee, which can develop persistent swelling if not treated early on. She recommended that Mrs. Ayoub take Gabrielle to see Thomas J.A. Lehman, MD, who confirmed the diagnosis.
"Our role is to take care of patients who aren't getting better with their current treatment and need more aggressive therapy," says Dr. Lehman. "We're the expert's experts. Physicians send their challenging cases to us when the diagnosis is elusive or standard treatments have been unsuccessful."
Under the direction of Dr. Lehman, the Division of Pediatric Rheumatology has become known for caring for children with rare and complex diseases. The Hospital's pediatric rheumatologists have pioneered new therapies that are now widely accepted for children with lupus, juvenile rheumatoid arthritis, uveitis, scleroderma, and dermatomyositis, and they continue to work on a number of new studies related to documenting better therapies for children.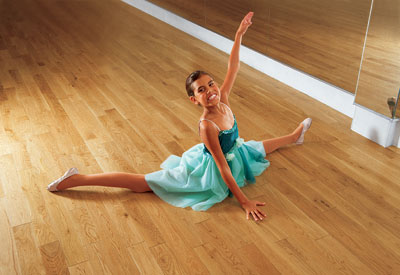 With ongoing treatment and physical therapy services at HSS, Gabrielle has realized her dream to dance. "We've been going to HSS now for eight years. Early on, Dr. Lehman said that Gabrielle could do some kiddie classes to stay active, so I signed her up for dance school," says Mrs. Ayoub. "Since then, dance became her passion. This past July, she did her first solo in a national competition and got a gold medal. She's really come a long way."
Back to Pediatric Patient Stories