Welcome by Angela Hunter, LMSW
The evening began with a welcome by the Myositis group's coordinator, Angela Hunter. She restated the purpose of the event as a celebration of ten years of support and education provided by the group for those with this rare disease.
She recognized that for many, coping with myositis continues to be a daily struggle, and the event on this evening was not a celebration of myositis, but rather of the supportive community that has been built by the members of this group.
She pointed out the diverse audience attending the evening celebration. Present at the meeting were some of the very first group members, those members who attend more currently, and even individuals attending for the very first time. Additionally, other important members of the myositis community were present, including friends, children, and loved ones.
Using a PowerPoint presentation, Angela gave an overview of the accomplishments of the group over the past ten years. She began by reading the mission of the support group, which is based on creating a community for one another:
The mission of the Myositis Support Group is to enhance coping, reduce isolation, and increase understanding of the inflammatory myopathies (polymyositis, dermatomyositis, and inclusion body myositis) by creating a community for mutual support and education. Through a support group model, those with myositis receive valuable information on the latest treatments and techniques, share common concerns among those with similar experiences, learn coping skills to assist in managing specific symptoms, and provide emotional support, affirmation, and advocacy to one another.
Angela read several quotes from those who attend meetings to demonstrate how the Myositis Support Group accomplishes its mission.
One member said, "My husband's polymyositis completely changed both of our lives. Not able to join our usual activities, we felt very isolated."
Another group member has said about the meetings, "You can talk freely about how you feel and not feel you are a burden. [When not at the meetings,] I sometimes try to hide or gloss over things so as to not put stress on my family and friends."
Words from Lawrence Kagen, MD, medical advisor emeritus
Roberta Horton introduced Dr. Kagen and encouraged him to say a few words about how the group began with a conversation between them at the nurse's station. He reflected on how the group started in 1997, after he'd expressed a building need for support for those with this rare disease.
He said, "When you have a good idea, don't give up on it. Fortunately, I didn't." He talked about how he has seen the group grow and his gratification with the group's ten-year history. Following his retirement a year and a half ago, he is happy to see the group continue to achieve new goals.
Dr. Kagen expressed his pleasure at the number of people at the meeting, as it shows how much the group means to its members. Yet, he also conveyed to the audience that he has some mixed feelings, explaining that what every healthcare worker wants is for everyone to be well. He is hopeful that one day a medication will be discovered that will cure myositis.
Dr. Kagen went on to discuss the significant changes in the understanding and treatment of myositis since the group began in 1997. He pointed out the widespread use of IVIG, the increase in knowledge about the cells that participate in inflammation, and the development of medications targeted at the cells. He pointed to ongoing studies that show promise in making some headway toward better treatments for myositis.
With Dr. DiMartino's becoming the medical advisor, Dr. Kagen mentioned that his connection with the studies will allow him to provide the group with some interpretations of how the studies are progressing. At the end of his talk, Dr. Kagen acknowledged that although he doesn't know everyone in the room personally, as a doctor who has worked with many myositis patients over the years, his earnest hope is that everyone will improve fully.
At that point, Angela presented Dr. Kagen with a Certificate of Appreciation for his dedication to those with myositis and his role as the medical advisor to the Myositis Support Group.
History of the Group by Roberta Horton, LCSW
The first official meeting of the support group was on March 11, 1997, with six members in attendance. Roberta repeated how the idea for the group began with a conversation between herself and Dr. Lawrence Kagen. She recalled how each of the six people attending the first meeting had never met another person with myositis, and how it was such a significant experience to see them connect with one another.
Roberta went on to discuss how a review of the archives revealed that in the past ten years, the Myositis Support Group has held 116 meetings with over 1225 individuals attending the meetings over the years. The group has experienced large growth and has provided services to many individuals with myositis, along with their families and friends.
Roberta spoke about Jennifer Bigham, LMSW, the group's founder and first coordinator. Jennifer was a social work intern at the time, and later became the Manager for HSS' MYC-_ VOICES program. Since the time when Jennifer began the group, several other coordinators have worked with the group, including Laura Lowery, Suzy Kim, Mai Huynh, Abby Bradford, Wendy Doran, and Angela Hunter.
Roberta described how several past coordinators who began their roles as student interns eventually worked full time at HSS. She recognized how Angela was the first person who, after her student internship, became a professional coordinator of the group as a result of a one year grant from New Age Home Care. The funded coordinator position allows Angela to really get to know group members and to provide continuity for the group.
Highlights Over the Past 10 Years
Angela highlighted the fact that the Myositis Support Group at HSS continues to be the only group of its kind in the tristate area. The group is unique because of its access to expert speakers on medical topics associated with the hospital, along with the advantages of the coordinator being a professional social worker.
In order to make sure the group continues to meet the needs of its members, Angela pointed to an evaluation that is conducted periodically. The evaluations are especially important in identifying the topics the group would most like to address, as well as the types of speakers they prefer. The last evaluation in 2004 had a 70% response rate, with 42 members answering questions about the group's performance.
Angela read some of the results: 100% of respondents would recommend the group to others, 93% always read the newsletters, and 58% travel over an hour to get to the group. She also described how group members completed the following statement:
"Attending the Myositis Support Group helps me to…":
…understand my illness." 94%
…communicate with my doctor." 76%
…cope emotionally with having myositis." 88%
…relate better to my friends / family members." 83%
…build a support network with others with myositis." 93%
From the results, it appears that the group does a good job of meeting the needs of those who attend.
Over the years, the group has invited many notable guest speakers. Angela mentioned several of them, including Dr. Kagen and Dr. DiMartino as the medical advisors; Lauren Sternberg, MD on dermatology; Bethel Marcus, OT, CHT on task modification; Maureen McSweeney, PhD on pain management; Ken Bichel on Tai Chi C'Huan, and Tom on using the internet to search out health information.
A special meeting included four members of the myositis health care team: A patient with myositis, Dr. Kagen, Angela, and Linda Leff, RN of the HSS infusion room came together to describe their various roles in assisting individuals in coping with myositis.
In addition, Mike and Stan present each year a summary of the activities they attended at the national meeting of The Myositis Association, to update those in the group who were unable to attend.
Widespread Recognition
HSS is proud that the education and support provided by the Myositis Support Group reaches far beyond the New York metropolitan area, as the hospital has posted summaries of meetings on hss.edu. As a result, anyone with myositis can benefit from the information shared at meetings, whether it is an open topic discussion or a medical professional presenting on a particular topic.
Angela mentioned how three selected summaries were included in the book, "Myositis – Facts, Feelings & Future Hopes" by Jennie Fenton, an editor in London who is living with myositis. As an international publication, the book reaches those with myositis worldwide.
Additionally, the support group training manual developed by past coordinator Wendy Doran, served as a model for support groups when Roberta Horton presented on it at the annual conference of The Myositis Association (TMA). Other presentations occurred at the American College of Rheumatology (ACR) National Scientific Meeting for Rheumatology.
First, group founder Jennifer Bigham talked about the specific issues involved in implementing a rare disease support group, and second, Abby Bradford presented the results of an extensive evaluation of the Myositis Support Group.
The HSS support group is fortunate to have a direct connection to TMA since both of the NY Keep In Touch (KIT) reps are members of our support group. Additionally, Dr. Lawrence Kagen was recently appointed to the Medical Advisory Board at TMA.
Through these activities, Angela described how the Myositis Support Group is truly a leader in helping those with myositis cope with their disease.
Ten Years of Support
Angela reflected on the connection that those with myositis have formed through their experience with the support group. "Through my five years with the support group, I have found that it is much more than a place to learn about myositis," she said. "It is a place to connect with others who understand what it means to have myositis. Group members themselves are an influential part of the group's success."
Angela talked about the close friendships she has seen develop among the group members, such as visiting each other in the hospital or sending flowers. Group members have been helpful in locating guest speakers and serving as guest speakers themselves, noting as an example their participation in the TMA conference.
In August, the group enjoys an offsite gathering, and several group members have opened their home to the group so we could meet in a more pleasant and informal environment.
Angela referenced a patient-written newsletter, "The Myositisian," that group members developed. Since the group members are experts in their own condition, the tips and resources they share for each other are an essential part of the helpful nature of the meetings.
Angela thanked the members for their amazing participation in this group.
Acknowledgements
Over the years, Angela described how the group has received financial and in-kind support from a variety of sources. She gave a special acknowledgement for the contributions made by these organizations and individuals. The type of support provided by each of them makes this program possible.
A very special thank you was conveyed to the following:
HSS Division of Rheumatology
HSS Division of Patient Care and Quality Management's Department of Social Work Programs
New Age Home Care
ZLB Behring
Anonymous Donor
LIBRE Fund
Karin Berg Fund
Individual group members
Columbia University School of Social Work
Linda Leff, RN
Roberta Horton, LCSW
Dr. Lawrence Kagen
Dr. Stephen DiMartino

Angela especially thanked New Age Home Care for providing refreshments at each group meeting, as well as a special dinner for this evening.
Group Member Reflections
Two group members who have been a part of the group for many years gave a short reflection on their experience with the group over the years.
Melly gave a beautiful reflection on the meaning of the group as she spoke in support of her partner, Jeff. They have been attending the group for the past eight years. Melly described how myositis was a life changing diagnosis for both of them and how the time spent at monthly meetings are precious to both of them.
She said, "The group is one place where others can personally sympathize with the challenges we face, even if they are at different stages of the disease or just finding out what is going on inside of them. When someone has a victory, I feel it's our victory. When someone has a setback, I feel for them because it's a setback for all of us."
Mike then reflected on his time with the group. He has been a member since 1997. Prior to the support group, he said those with myositis may have missed opportunities to meet each other because doctors had to abide by confidentiality laws. As a member for the past ten years, Mike's myositis has had its ups and downs, but Mike's health is better, and he keeps a full schedule.
He said the best thing for him at this stage of his diagnosis is the knowledge that the group is here. He recognized that he is not able to make it to the meetings each month, but he comes when he can. To continue a connection with the group on those months when he isn't at the meeting, he reads the newsletters and feels like he was there participating. Mike has referred many members to the Myositis Support Group from his role as the NY Keep in Touch (KIT) rep with TMA.
Words from Stephen J. DiMartino, MD, PhD, medical advisor
As the current medical advisor of the Myositis Support Group, Dr. Stephen DiMartino said a few words at the celebration. He referenced the recent articles where myositis was mentioned, including the New York Times and ABC News. With myositis receiving increased recognition in the news, he hopes that it will bring about greater awareness of this rare disease.
He also described how several studies are going on that might offer some hope for future treatments. Over the last 5-7 years, Dr. DiMartino talked about how a group of neurologists and rheumatologists are developing a common language on myositis symptoms by agreeing on a group of criteria and instruments to measure improvement in disease. Studies can now include individuals from around the world and, potentially, medications can be designed specifically for those with myositis. In the past, people would try to use medications intended for use with arthritis and lupus for myositis.
He also described that over the last decade, remarkable advances have occurred in the understanding of inflammation and autoimmunity. He is constantly hearing more about new medications and trials, and he thinks there is hope on the horizon. He concluded his talk with a "thank you" for including him in the role as medical advisor and said he is honored to be a part of the group.
Following Dr. DiMartino's talk, Angela presented him with a certificate of appreciation to acknowledge his contribution to the Myositis Support Group as medical advisor, and to patients with myositis as a rheumatologist. Through his work with the group, we look forward to continued growth in membership, outreach activities, and connections with guest speakers.
Next, Roberta and Angela exchanged certificates of appreciation for one another. Each of them described how instrumental the other is in coordinating the group and achieving new goals.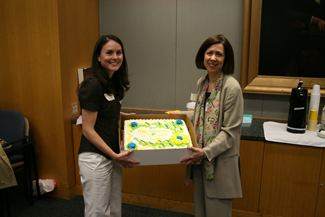 Angela Hunter, LMSW and Roberta Horton, LCSW holding
the cake at the Myositis Support Group's
10th Anniversary Celebration.
Group Member Testimonials
Many testimonials were offered by those attending the meeting. Some highlights of the testimonials are listed below:
Tommy described the circumstances of his diagnosis in 1994. When he found the group, he described that, "It meant a lot to me to speak with and share my pains, triumphs, and life with others who were suffering with the same illness. It gave me hope that I was not alone. I met friends who where willing to listen, and that meant a lot."
He also described how he has been inspired by other group members and how they face their struggles with myositis. Tommy himself is an inspiration to others, as his disease slowly went into remission. He lives a full life with his wife and two daughters. He said of myositis, "It may never come back at all, or it might come back as soon as I leave this room, or anywhere in between." He thanked his wife and said his faith has been everything to him.
Stan mentioned that he asked himself, "What are the benefits belonging to the group?" and found that there are quite a few. First of all, he said, his friends "sort of" know he has myositis but he can't really talk about it with them. The Myositis Support Group is the first place where others understand him, and he feels that it is important to vent one's feelings. He listens to how others cope, and it helps him learn strategies for coping. From the speakers, he said he has learned useful information and tools to use to make his life easier. He ended by expressing his gratitude for the group.
Marcia described how she finds it interesting to listen to everybody else's experience with myositis. Yet, the most interesting thing is that she doesn't really need to talk to feel supported. She said that all she has to do is say, "I have polymyositis and everyone understands." With others, she feels she has to explain what myositis is and what it means to have it. At the meetings, Marcia learned what polymyositis really meant in a way that her doctors or books couldn't describe.
Marie gave a heartfelt reflection about her husband's experience with myositis. They have both experienced health issues, and it helped them to grow stronger. She said she has learned from myositis that you never know what the next day is going to bring. She never thought she would see her husband running after two little kids, but she is thankful each day.
Phyllis described how the Myositis Support Group has provided her with support. She said that myositis is just one aspect of her life and that there are always other difficult times to face. The support group was there at a time when she needed it most.
Conclusion of the Celebration
Group members continued to share stories of challenge and of inspiration with one another, and Angela thanked everyone for coming and for participating in the evening's celebration. The members mingled for the rest of the evening while eating a delicious anniversary cake that was generously brought by one of the group's members.
Overall, it was a wonderful event that furthered the group's mission to create a community for sharing and connecting. In one member's own words, "While acknowledging the challenges of myositis, this 10th Anniversary celebration was a wonderful way to spread hope and inspiration for the future through connections with many wonderful people."
Myositis Support Program at HSS
Learn more about the Myositis Support Program, a free support and education group held monthly at Hospital for Special Surgery.
Posted: 7/27/2007
Summary by Angela Hunter, LMSW

Related articles