Serving the Needy: FAMI Medical and Surgical Missions to the Philippines
Filipino American Medical Inc. (FAMI) is a non-profit corporation that was founded in 1999 by Hospital for Special Surgery's Niles Perlas, CRNA, and friends in New York City. FAMI brings American and Filipino-American physicians and other medical professionals to the Philippines to serve the poor.
FAMI's first surgical mission was joined by Chris R. Edmonds, MD, along with other HSS medical staff. During the course of his stay in the Philippines, Dr. Edmonds performed anesthesia and gave lectures/demonstrations at the teaching hospital.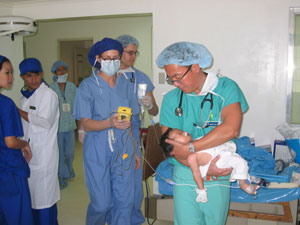 Dr. David Lee
Subsequent missions were joined by David L. Lee, MD, James D. Beckman, MD, Andrew C. Lee, MD, and Joseph Oxendine, MD. Dr. David Lee and Dr. Beckman, who have volunteered on a number of missions, are also members of the FAMI Board and our Medical Advisory Committee.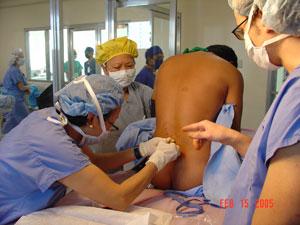 Niles Perlas in Asia 2005
FAMI's surgical success rate of no mortality in almost 1,000 free surgeries performed can be attributed to HSS Anesthesia-specialized skills and vigilant care. In one critical situation on emergence from anesthesia, when a pediatric patient almost aspirated from mucus when suction was not available, Dr. Andrew Lee used an asepto syringe instead, avoiding serious complications.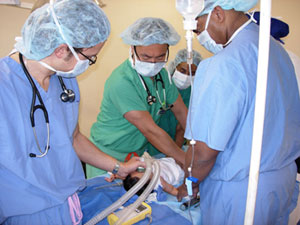 Dr. David Lee
The mission's surgical team was made possible through the support of the Hospital for Special Surgery Anesthesia Department. Gregory Liguori, MD, the Director of the department, has supported FAMI's mission by encouraging the Anesthesiology staff to join in this humanitarian and international volunteerism work.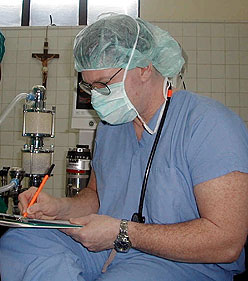 Dr. Beckman
Niles Perlas recently received the prestigious Philippine Presidential Award for founding the FAMI Organization. Below is a photo commemorating the event.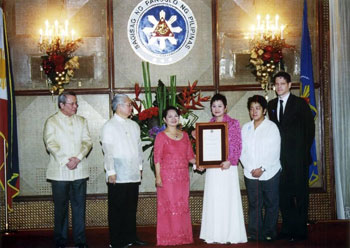 Niles Perlas, RN CRNA, receives the Philipine Presidential Award (center, holding award).
Dr. Joseph Oxendine stands to the far right.
FAMI and Niles Perlas will always be grateful to the HSS Anesthesiology Department and Dr. Liguori for their belief and generosity in helping the needy; without them, FAMI would not have been able to deliver.
Posted: 12/5/2005
Authors