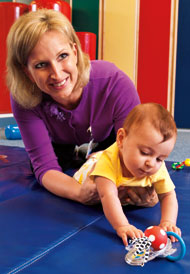 Children come to Hospital for Special Surgery with a wide range of chronic and acute bone, joint, and autoimmune diseases, developmental delays, and injuries. Whether children need a series of complicated surgeries or short term outpatient rehabilitation therapy to get their mobility back on track, pediatric rehabilitation therapists teach them to move with confidence.
Special Surgery's pediatric rehabilitation therapists provide nearly 18,000 sessions of inpatient and outpatient physical, occupational, and speech therapy each year. Often, children are rehabilitating after surgery at HSS, where orthopedic surgeons perform some 2,500 surgeries each year for children and adolescents.
"We teach children how to move again after surgery, and help them regain strength," says HSS pediatric physical therapist Maureen Suhr, PT, DPT.
Because HSS is uniquely specialized in helping patients with musculoskeletal challenges move without pain, its therapists care for many children with similar surgeries and conditions, even those that are rare elsewhere. This experience provides them with unsurpassed expertise in a full range of bone, joint, and autoimmune issues.
CA Technologies Rehabilitation Center
In the fall of 2011, HSS will open its 7,000 square foot, state-of-the-art CA Technologies Rehabilitation Center at the Lerner Children's Pavilion, improving access to pediatric rehabilitation services for surgical patients and children in the community who need outpatient therapy. Therapists, parents, and children consulted with the architects to design a beautiful, child-centered space that will help children make the most of their rehabilitation.
The Center was made possible through a generous $5 million gift from CA Technologies, an IT management software and solutions company. It includes a physical therapy gym; therapy rooms for children to work on fi ne motor skills; rooms for speech therapy; quiet areas for children with sensory needs; an occupational therapy gym with a room for sensory integration therapy; an equipment clinic specializing in wheelchair and mobility needs; and the full range of virtual reality toys and software that are used as therapy tools.
Learn more in HSS's biannual publication, Discovery to Recovery.
Posted: 5/29/2013
Authors