Innovation has always been at the heart of the HSS mission. When Dr. James Knight first opened the Hospital for the Ruptured and Crippled in 1863, the very idea of a hospital dedicated to the care of children with severe physical disabilities was new.
When Surgeon-in-Chief Philip D. Wilson, Sr., MD, established the Research Division in 1955, he harnessed the spirit of innovation that has always been integral to the HSS culture and created a new infrastructure for scientists and physicians to work together to advance the medicine of movement. This collaboration between clinicians, biomechanical engineers, and laboratory scientists has produced extraordinary inventions and discoveries that have helped patients around the world enjoy better, more active lives.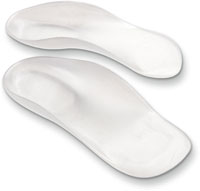 Whitman Plates
HSS surgeon Royal Whitman, MD, invented this contoured arch as a cure for flat feet in 1907. Dr. Whitman believed that static support was needed to fix the anatomy of the foot. Whitman plates are still used today.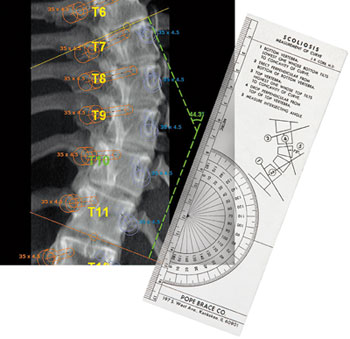 Cobb Scoliosis Angle
HSS spine surgeon John Cobb, MD, invented a method of scoliosis measurement in the 1940s. Dr. Cobb advocated for the evaluation and measurement of angles in clinical situations as a way to understand and improve outcomes for scoliosis patients. Measuring the Cobb angle still remains a routine task for spine surgeons. Today, computer programs ensure precise measurement using the same angle system developed by Dr. Cobb.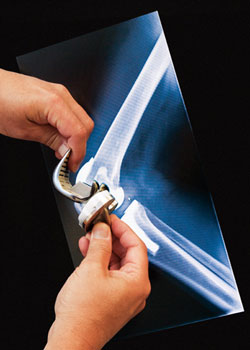 The First Modern Knee Implant
In 1969, HSS surgeons John N. Insall, MD, Chitranjan Ranawat, MD, Allan E. Inglis, MD, and biomechanical engineer Peter Walker, PhD, began to design and develop the modern total knee implant, called the total condylar knee, which was first used in patients in 1974. The total condylar was the first knee implant to recreate the way a real knee works, allowing patients to move naturally and without pain.
HSS surgeons have performed more than 55,000 knee replacement surgeries, more than any other hospital.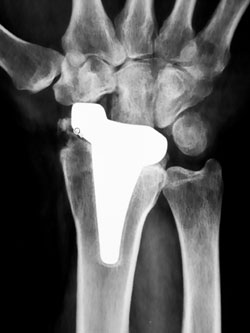 A New Kind of Wrist
Scott Wolfe, MD, chief emeritus of the Hand and Upper Extremity Service, has invented a new wrist implant and partial implant that for the first time mimic how the wrist really works. Until now, experts believed that the wrist moved the hand in two planes – up and down and side-to-side.
Dr. Wolfe and biomechanical engineer Joseph Crisco of Brown University demonstrated that many of the wrist's important functions – throwing a ball, hammering a nail, pouring a glass of water – actually combined a movement between these planes: the so-called "dart-thrower's motion." The new implants were born out of this discovery.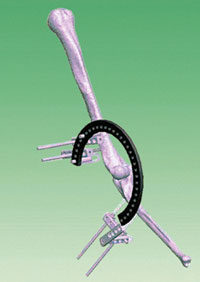 Ex-Fix for Elbow Mobility
Upper extremities surgeon Robert Hotchkiss, MD, and a team of biomechanical engineers have invented an external fixator device ("Ex-Fix") that will greatly improve recovery for people with elbow injuries. Casts or hinge-based frames typically hold the elbow in one position during recovery, causing the elbow to remain very stiff once the cast is removed.
The Ex-Fix is adjusted and temporarily "unfixed" as the elbow heals, allowing patients to conduct appropriate rehabilitation exercises, which will give patients full range of motion once their injury heals. Because of its proposed simplicity of installation, the Ex-Fix will be ideal for use at trauma sites.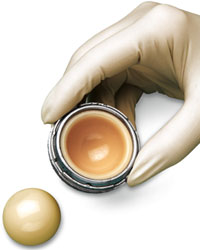 Improving Hip Replacement Accuracy
To improve accuracy of hip implant cup placement into the pelvic bone during hip replacement surgery, HSS surgeon Chitranjan Ranawat, MD, and engineer HSS Joseph Lipman, MS, are developing a method of using CT scan and X-ray images taken of patients prior to surgery to determine the precise cup position for each individual patient.
Guided by these patient-specific images, engineers can use computer-aided modeling to plan and orient the cup position before surgery. The team is also developing special instrumentation and a novel surgical technique to make this a very surgeon-friendly product.
Spinal Fusion Instrumentation
A team of HSS spine surgeons and biomechanical engineers including Federico Girardi, MD, Andrew Sama, MD, and Joseph Lipman, MS, developed a comprehensive spinal fusion system that entered the market in 2007.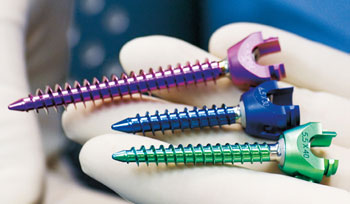 The system incorporates some 50 pieces, including multiple color-coded screws, a tap sized for each screw, various rod configurations with slightly different curvatures to match the particular location in the spine, and measuring tools to ensure precision in complex spinal fusion surgery. This system helps surgeons perform efficient, safe surgeries so that patients will have better results.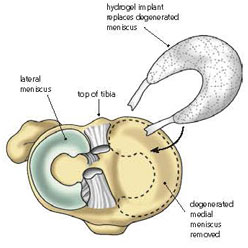 New Materials: Hydrogel
A team of HSS scientists and clinicians led by biomechanical engineer Suzanne Maher, PhD, has invented novel synthetic implants to replace cartilage damaged in common sports injuries. The materials are designed to closely mimic healthy cartilage with the goal of slowing or preventing the progression of osteoarthritis, which often develops following an injury. The implants will be used to replace injured cartilage anywhere in the body, for example articular cartilage and the menisci.
HSS inventions impact the real world because the goal of their development is always improved patient care. "Often there is no commercial motivation for this highly skilled group of experts to devote so much time to developing a new product. They are doing it for their patients and because they love to solve problems," says Donna Rounds, PhD, director of Technology Development at HSS.
Read the full Discovery to Recovery Spring 2013 issue.
Posted: 4/4/2013