New, Non-invasive Test May Help Diagnose Pulmonary Hypertension in Scleroderma
For Healthcare Professionals
In patients with Systemic Sclerosis (SSc) – or scleroderma – a condition called pulmonary hypertension (PH) is a leading cause of death. Having PH means the blood pressure between the heart and lungs is elevated.
The Need for New Tests for PH in SSc
The current gold standard test for PH in scleroderma is called right heart catheterization (RHC). It is expensive and invasive. RHC also has significant associated risks. Other standard, noninvasive screening methods are limited in their ability to distinguish between SSc patients with and without PH. These include both the transthoracic echocardiogram (TTE) and pulmonary function testing (PFT).
The existence of an accurate, noninvasive technique to screen for PH in patients with SSc is an important unmet need. A recent collaboration involving HSS experts in SSc and Weill Cornell experts in PH shows promising early results for such a new diagnostic tool. The test is called SHAPE™.
The New SHAPE™ of PH Testing
SHAPE™ stands for Submaximal Heart And Pulmonary Evaluation. SHAPE™ is a noninvasive stress test that uses a 5.5 inch high step on which patients step up and down for 3 minutes. During the test, a measurement called end tidal carbon dioxide is monitored. This measurement – taken from pre-stepping rest to the end of the stepping exercise – is a marker for cardiac output and reflects the severity of PH.
To compare the diagnostic ability of the non-invasive SHAPE™ to the gold standard RHC, the team assessed how the end tidal carbon dioxide results of the SHAPE™ test correlated to a measurement taken during RHC. The RHC measurement is called mPAP, which stands for Mean Pulmonary Artery Pressure.
The team theorized that the end tidal carbon dioxide measurement of SHAPE™ would be strongly negatively correlated with mPAP – a mathematical correlation, that if strong enough, would provide support for the use of SHAPE in patients with SSc.
SHAPE™ Shows Potential
Using the medical charts and test results of 19 SSc patients who had undergone both RHC and SHAPE™ – and in some cases other standard tests – the team analyzed and compared the test results. The end tidal carbon dioxide measurement of SHAPE™ did have significant negative correlation to the mPAP of RHC.
In this population, SHAPE™ had better sensitivity, specificity, positive predictive value, and negative predictive value for PH than either of the standard tests – TTE or PFT. The comparisons indicate promising results in investigating whether SHAPE™ may become a non-invasive screening tool for PH in scleroderma. This test will be studied in a broader population of scleroderma patients to better understand whether it will have a role in PH screening.
Specific clinical findings for physicians to compare are in a chart below.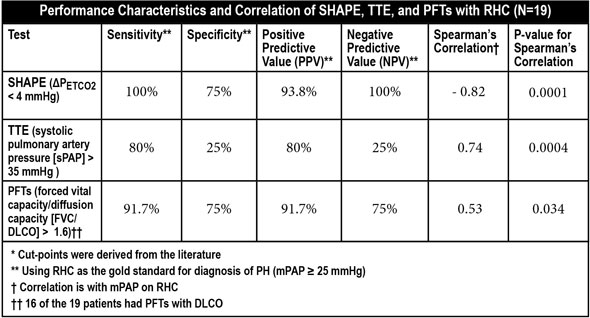 The SHAPE™ study was presented by HSS doctors at the 2012 Annual Meeting of the American College of Rheumatology (ACR) in Washington, DC.
Posted: 11/2/2012
Authors