Hospital for Special Surgery scientists Adele Boskey, PhD, and Alessandra Pernis, MD, have received new NIH funding in 2012 to support their explorations into the how and why of bone and autoimmune disease. They conduct laboratory research that may be the first step in developing new treatments for patients. Both women have earned NIH funding in the past; their newest grants demonstrate the NIH's confidence in their work and the HSS research infrastructure.
The NIH currently supports research at HSS with multi-year grants of more than $48 million (about $13 million per year), helping to fund 48 studies covering a full spectrum of basic and clinical research aimed at improving bone, joint, and autoimmune health for patients. This is an especially impressive feat considering the current budgetary stress on the NIH.
"At HSS, all laboratory research is conducted with the patient in mind, and the NIH continues to recognize the accomplishments of our scientists in discovering how orthopedic and autoimmune diseases work. These prestigious new grants will bring us closer to better treatments and, in time, cures for bone and autoimmune diseases," says Steven R. Goldring, MD, HSS chief scientific officer and Richard L. Menschel Research Chair.
Bone Chemistry Uncovered
Dr. Boskey, Starr Chair in Mineralized Tissue Research, has investigated bone chemistry at HSS since 1970. Her new grant is the seventh NIH grant for which she has been principal investigator.
Through their study of microscopic bone crystals, Dr. Boskey and her team have made groundbreaking discoveries about how healthy bone serves as the body's reservoir for calcium, learning that in healthy bone a continuous rapid turnover of bone crystals in the hard part – and collagen in the soft, inner part – of the bone regulates the body's calcium.
In bone with osteoporosis or other disorders, this equilibrium becomes interrupted and the body removes more of the bone crystals and collagen than it is able to re-deposit, resulting in porous bone that is prone to fracture.
Measuring Crystals with Light
Dr. Boskey and her team developed a method of measuring the quality of bone crystals for diagnostic purposes with infrared spectroscopy, in which a light beam is shined onto the molecules in biopsied tissues and vibrations are reflected back, producing color images that illustrate bone quality.
Spectroscopy has proven an invaluable research tool to measure the effects of new medications aimed to improve bone health, and has led to key findings on the effects of bisphosphonates and vitamin D.
The Importance of Disordered Proteins
Dr. Boskey's newest NIH grant supports her team's current study deposited. She is investigating whether the collagen itself is directing new bone formation, or if it's the interaction between collagen and non-collagenous proteins that creates new bone mineral. Dr. Boskey hypothesizes that it may be both, since she has evaluated animal models in which the removal of non-collagenous protein has led to dramatic bone change and even serious bone disease.
Many of these non-collagenous proteins lack a defined structure, and are referred to as "intrinsically disordered proteins" (IDPs). Dr. Boskey postulates that the IDPs are able to interact flexibly with collagen, minerals, and cells depending on the bone's greatest need at the time.
Helping Patients Get Well
Findings from this research may have a profound impact on the treatment of diseases, including osteogenesis imperfecta, in which physicians already know which proteins do not bond correctly. In these cases, it may ultimately be possible to perform site-specific IDP injections to stimulate bone formation. "If we're correct, there will be many therapeutic options for all kinds of bone diseases associated with either abnormal collagen or abnormal non-collagenous protein," says Dr. Boskey. "We do the basic
science so that later pharmacologists can develop an intervention to help patients restore good bone health."
Throughout her career at HSS, Dr. Boskey has trained a cadre of successful scientists, one of her proudest accomplishments. She appreciates the collaborative culture of research at HSS. "Physicians and scientists do not work in silos here," says Dr. Boskey.
"One of the best things about HSS is going to a staff conference and listening to what someone else is saying and getting a new idea about how it relates to your work. We elevate each others' work by working together," she says.
Targeting Autoimmunity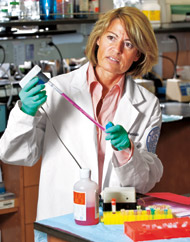 Alessandra Pernis, MD, (pictured right) the first holder of the newly established Peter Jay Sharp Chair in Lupus Research, joined HSS from Columbia University in 2009, transferring her NIH funding for which she was principal investigator. Dr. Pernis's work focuses on investigating how lupus, rheumatoid arthritis, and other autoimmune diseases work, with the goal of moving closer to better treatment options for patients. Her newest and fifth award from the NIH will allow her and her team to continue their investigations of the immune system.
The daughter of a renowned immunologist who discovered B cells, the immune cells that produce antibodies, Dr. Pernis says: "I was the only six-year-old in the world who knew I did not want to be an immunologist." She changed her mind during a fellowship following medical school, where she was drawn to basic science in part because of the creative thinking that is so essential to being a scientist.
T Cells Rock
Dr. Pernis's work is focused on investigating the activation of mature T lymphocytes, powerful immune system regulators. "Understanding how T cells work will lead to targeting them to find new treatments for patients," says Dr. Pernis.
Previous research has found that a type of protein called a kinase can play a key role in controlling the function of a cell. Dr. Pernis and her team have examined the role of a specific kinase called ROCK2 for short. They have learned that ROCK2 seems to regulate the function of T cells in mice with lupus, who get better when the kinase is inhibited. They have also found that this kinase can control the function of T cells in other autoimmune diseases. Dr. Pernis's newest NIH grant will support her investigation into ROCK2 as a regulator in a model of autoimmune arthritis similar to rheumatoid arthritis (RA).
Dr. Pernis hopes that ROCK2 will be a key player in new pharmaceutical therapies for many autoimmune diseases, including lupus and RA. Statins, medications commonly used to lower blood pressure, are known to interfere with this kinase. Therefore, part of Dr. Pernis's grant will fund testing statins on mice with RA. With additional funding, Dr. Pernis hopes to conduct a similar study on lupus in the future.
Back to the Patient
Dr. Pernis works closely with clinicians in the Mary Kirkland Centers for Lupus Care and Research, where a pilot project is currently underway to measure the levels of kinase in people with lupus. Eventually, she would also like to track whether levels of kinase increase during lupus flares.
"HSS is special because bench research can be translated to the bedside seamlessly. There is true collaboration between laboratory scientists and clinicians," says Dr. Pernis. "We are all committed to helping patients live full and active lives."
Read the full Discovery to Recovery Fall 2012 issue.
Posted: 5/28/2013
Authors