HSS scientists are developing new technologies in the laboratory with the goal of helping our patients detect and treat surgical complications and pain.
Fighting Inflammation with Nanoparticles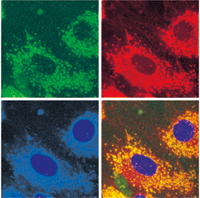 Imaging agents in nanoparticles show early signs of osteolysis, leading the way for new treatment options.
While most people do well for many years after a knee replacement, its most common long-term complication, called osteolysis, occurs when wear debris from the breakdown of the implant breaks off and accumulates in surrounding tissues. These foreign particles cause the body to induce an inflammatory reaction. During this reaction, the tiny implant particles get carried between the implant and the bone, causing bone destruction and implant loosening, which can lead to the need for a revision surgery.
In the HSS Osteolysis Lab, Director Ed Purdue, PhD, Surgeon-in-Chief Thomas Sculco, MD, Chief Scientific Officer Steven Goldring, MD, and colleagues have identified how implant debris particles activate cells to induce an inflammatory reaction. This discovery, published in the Journal of Orthopaedic Research in 2012, will help determine which medications may stop this reaction from occurring. "You need to understand how the cells react to cause inflammation before you can develop a therapeutic intervention. Our hope is that our discovery in the laboratory will be quickly translated into a cure for patients, allowing them to avoid the need for revision surgeries," says Dr. Goldring.
Scientists in the Osteolysis Lab have also worked with outside collaborators to invent a novel way of using nanoparticles to deliver medication directly to inflammatory cells. These nanoparticles are so small that they themselves do not trigger an inflammatory reaction. Imaging agents can also be added to the nanoparticles to detect inflammation before noticeable symptoms occur.
A Novel System for Treating Pain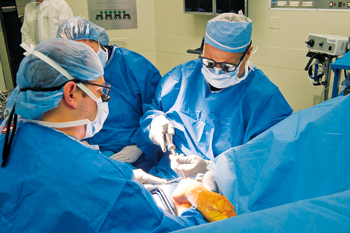 Robert Hotchkiss, MD, uses his expertise as a surgeon to research new solutions for patients.
Another team of HSS inventors led by Robert Hotchkiss, MD, an upper extremities surgeon and medical director of clinical research at HSS, has invented a new way to potentially reduce pain and inflammation – a patented, small reservoir containing medication that is implanted into a joint to locally and steadily deliver a drug dose over several months.
Read the full Discovery to Recovery Spring 2013 issue.
Posted: 5/9/2013
Authors
Related articles