Chances are if you mention back pain, a conversation is sure to follow. Spine problems are so prevalent in today's society – affecting 8 out of 10 people at some point during their lives – that virtually everyone knows someone who suffers from a temporary twinge to a chronic condition, with numerous manifestations in between.
One of the most challenging decisions for an individual with back pain or a spinal disorder is determining where to start the process of care. HSS Spine at Hospital for Special Surgery is helping to make these decisions easier. How? By bringing together within a single program nearly 50 physicians, spine surgeons, and health professionals with expertise in diagnosing and treating all levels of spine disease.
The inherent intricacy of the spine – with its multiple levels of bones, joints, discs, cartilage, and nerves running from the base of the skull to the tip of the tailbone – requires a number of disciplines to interact simultaneously to address associated symptoms and disorders.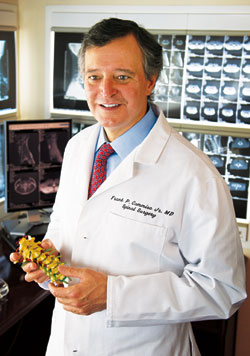 Dr. Frank Cammisa, Chief of the Spine Service, and his medical and surgical colleagues have established a comprehensive program for patients with spinal disorders.
"From the most current diagnostic procedures and non-operative management approaches to state-of-the-art surgical interventions, the Spine Care Institute calls on its multidisciplinary team of specialists to ensure that patients receive the right care at the right time," says Frank P. Cammisa, Jr., MD, Chief of the Spine Service at HSS.
"We need to be able to obtain comprehensive evaluations by anesthesiologists, pulmonologists, and other medical specialists in a coordinated fashion as is provided by HSS in order to best prepare patients for surgery," says Oheneba Boachie-Adjei, MD, Chief Emeritus of the Hospital's Scoliosis Service, who sees children, adolescents, and adults with some of the most challenging spine deformities.
Roger F. Widmann, MD, Chief of the Hospital's Pediatric Orthopedic Service, and his team treat children with three major types of scoliosis in the pediatric population. Congenital scoliosis is a spinal deformity present at birth. Idiopathic scoliosis is a deformity that develops during childhood and adolescence. When scoliosis is associated with other conditions, such as cerebral palsy, it is referred to as neuromuscular scoliosis.
"We approach each of these situations differently depending upon the child's age and stage of development," says Dr. Widmann. "In some situations nonsurgical management is appropriate."
"As a premier institution for musculoskeletal disorders, Hospital for Special Surgery provides patients with access to physicians and health professionals who have unparalleled expertise in bone, soft tissue, and joint conditions," says Thomas P. Sculco, MD, Surgeonin-Chief. "Our orthopedic surgeons perform over 25,000 surgical procedures a year – with approximately 10 percent of them for spine disorders."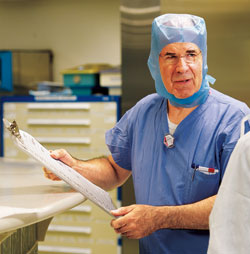 Spine surgeon Dr. Patrick O'Leary prepares for his next operation. He and other surgeons at HSS provide a wide range of expertise from treating herniated disks to correcting complex deformities.
Among these surgeons is Patrick F. O'Leary, MD. In the more than three decades that Dr. O'Leary has been performing spine surgery, he has diagnosed and treated most types of spine disorders and injuries.
The experience of Dr. O'Leary, along with the outstanding expertise of each of the Hospital's orthopedic surgeons who specialize in spine surgery in children, adolescents, and adults, continues to set HSS apart in the world of spine care.
Coming Together for Spine Care
Spine disease impacts a patient's quality of life in varying degrees. HSS patients are professional athletes who injured their spine while pursuing their sport; those who suffer from degenerative disc disease or a herniated disc; others who have a major spinal deformity; and those who have an undiagnosed condition but are troubled by persistent pain and neurological symptoms.
The Spine Care Institute harnesses the Hospital's collective knowledge and experience in spine care to provide each individual coming to HSS with a complete spine evaluation and the most appropriate plan for his or her particular situation. According to the Hospital's spine surgeons, the vast majority of people who have back pain do not have a surgical problem and never will.
For these patients, the Spine Care Institute provides a non-surgical strategy that may include any number of conservative approaches, such as pain management techniques and physical therapy. For the patient who requires surgery, the Institute's spine surgeons have expertise in the full range of procedures.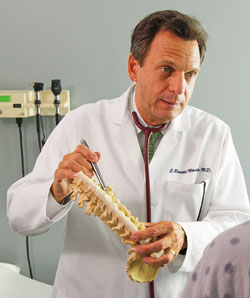 Dr. C. Ronald MacKenzie emphasizes the importance of the involvement of medical doctors in the care of the spine patient and the role they play in the continuity of care for patients during all phases of evaluation, treatment, and recovery.
An internist-rheumatologist at HSS for 25 years, C. Ronald MacKenzie, MD, will help manage the non-surgical approaches for the evaluation and treatment of patients suffering with spinal conditions. Also, in collaboration with other non-surgical specialists, and the spine surgeons as well, Dr. MacKenzie is currently developing and will oversee the medical and perioperative aspects of care at the Institute, which extends from the preoperative evaluation to post-surgical recovery.
"The Spine Care Institute is establishing clinical protocols that encompass the entire spectrum of need for our patients, from initial diagnosis and treatment, right through the perioperative care of the patient who ultimately requires surgery," says Dr. MacKenzie.
"Through the Spine Care Institute, patients have access to a seamless continuum of care among the many disciplines and resources available to treat spinal disorders," says Dr. Sculco. "Patients appreciate and expect this from Hospital for Special Surgery."
Read the full Horizon 2012 issue.
Posted: 6/18/2013
Authors