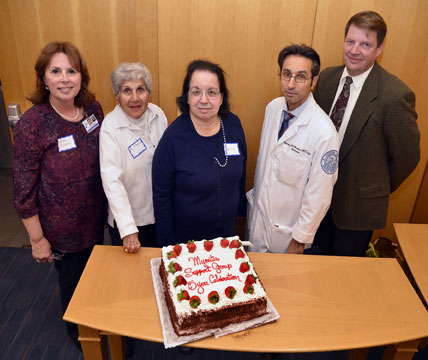 Suzan Fischbein, LCSW, group coordinator; Amy McReynolds, group member; Phyllis Sasso, group member; Stephen DiMartino, MD, group medical advisor; Mike Caposella, group member
On October 11, 2012, the Myositis Support Group celebrated 15 years of offering support and education to people with myositis and their loved ones.
Discussed in the summary are:
Welcome and Opening Remarks
The evening began with opening remarks by Suzan Fischbein, LCSW, Coordinator of the Myositis Support Group. Present at the meeting were several of the past group coordinators, many longtime members, and families and friends of members. Though he could not be present, Lawrence J. Kagen, MD, medical advisor emeritus to the group, sent his warm regards.
Suzan presented the group's history and accomplishments over the past fifteen years. She began by reading the mission of the Myositis Support Group:
"The mission of the Myositis Support Group is to enhance coping, reduce isolation, and increase the understanding of the inflammatory myopathies (dermatomyositis, inclusion body myositis, and polymyositis) by creating a community for mutual support and education."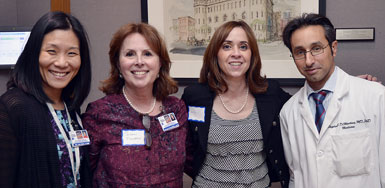 Su Jin Kim, LCSW, former group coordinator; Suzan Fischbein, LCSW, group coordinator; Jennifer Louziotis, LMSW, former group coordinator; Stepen DiMartino, MD, group medical advisor
History of the Group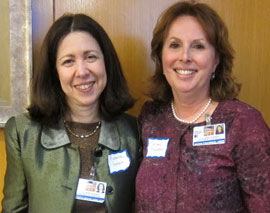 Roberta Horton, LCSW, ACSW, Director of the Social Work Programs department and Suzan Fischbein, LCSW, group coordinator
The Myositis Support Group began as the result of patients with myositis voicing to Dr. Kagan that they had never met another person with the rare disease. He met with Roberta Horton, LCSW, ACSW, (pictured to the left) Director of the Social Work Programs department at HSS who suggested that a support group to help people with myositis cope with the challenges associated with the disease could be helpful.
The first group met on March 11, 1997. Six founding members were present with Jennifer Bigham (now Jennifer Louziotis) a social work intern at the time, as its first coordinator and Dr. Lawrence Kagen as the group's medical advisor.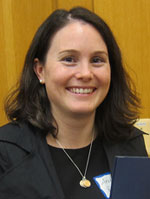 Following Jennifer were student interns Laura Lowery, Su Jin (Suzy) Kim, Abby Bradford, Wendy Doran-Paley, and Angela Rudden (then Hunter, pictured to the left), whose extraordinary initiatives further enhanced the program's impact.
The program was grant-funded from 2004-2008. HSS absorbed the program's cost into the hospital budget in 2008, recognizing the importance of the group and the services provided to people with myositis and their loved ones. This funding allowed the group to continue to be led by a social work professional, offering continuity of leadership.

"We have grown from our original six members to more than 155."
The success of the Myositis Support Group has been made possible by the special role of its medical advisors, Lawrence J. Kagen, MD (who served from 1997 to 2007), and Stephen J. Di Martino, MD, PhD (who served from 1997 to the present).
The partnership between the Division of Rheumatology and the Department of Social Work Programs has been demonstrated in the ongoing availability of our medical advisors' expertise- as evidenced in their frequent guest speaker presentations, and consultations with the coordinator and the wider medical community, contributing to the group's success.
Highlights of the Past 15 Years
Importance of Member Feedback
We have had approximately 60 guest speakers present to the group. Topics are determined by a comprehensive survey mailed out to the entire membership. In a 2012 survey, where 64 members responded, 100% told us they would recommend the group to others; 92% said that attending the group helps them to understand their illness; and 50% said that they travel more than an hour to attend group meetings.
Staying Connected
Staying connected outside of group meetings can make a difference. Toward this end, we value our partnership with The Myositis Association (TMA) and are pleased to have had Marianne Moyer, chair of TMA's Board, come to speak with us this spring. We are proud to have two additional KIT (Keep In Touch, the support group network associated with TMA) representatives along with a longtime KIT leader, and two past KIT representatives, acknowledged for helping us in our work with TMA. Over 1,500 newsletter mailings have been sent, providing the entire membership with summaries of our meetings.
Group members have access to many forms of support including:
Access to the coordinator by phone and e-mail
Informal meetings for mutual support outside the group setting
Annual summer luncheon
Email distribution list that provides updates and resources for members
Phone bridge for selected presentations, enabling members to participate from home
In order to enable group members to benefit from selected meeting presentations, 32 summaries are available on the HSS website. We have collaborated with the local, national, and international rheumatology communities. We've presented at national conferences, and we are a part of HSS' Scleroderma, Vasculitis, and Myositis Center.
We continued by celebrating our own story, as a group and as individuals, of "where we were then and where we are now," by expressing appreciation to all those who have helped replace isolation with a sense of community, confusion with understanding, and vulnerability with mutual support.
We were also pleased to have received a letter of congratulations from Bob Goldberg, executive director of The Myositis Association, acknowledging our hospital's commitment to support and education, as well as HSS' longstanding collaboration with The Myositis Association.
Our Panel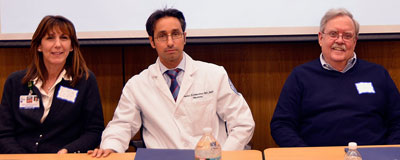 Linda Leff, RN-BC, MPA; Stephen DiMartino, MD, group medical advisor; Jim Rheingrover, group member
Our program included a panel consisting of nurse manager of HSS' Infusion Unit, Linda Leff, RN-BC, MPA, who discussed "Myositis and Infusion Medications." Dr. Stephen Di Martino, assistant attending rheumatologist at HSS and the group's medical advisor, presented on "Recent Treatment and Research in Myositis," and Jim Rheingrover, group member, and another group member, shared their journeys with myositis.
Myositis and Infusion Medications
Ms. Leff discussed the most common infusible (given intravenously) medications in treating myositis, indications for use, and some of the possible side effects:
Corticosteroids: solumedrol (methylpredisolone) can be given intravenously (through the vein), in doses that vary according to patient and disease severity. It is most commonly used for an acute flare either to increase or maintain oral dose and can be used alone or with other treatments. Infusion time generally lasts from 1-2 hours.
Short term side effects may include: weight gain/bloating, flushing of the skin, rash, headaches, mood swings, irritability, gastrointestinal problems, difficulty sleeping, and hair loss.

Long term side effects may include: cataracts, steroid-induced diabetes, osteoporosis and avascular necrosis.
IVIG (Intravenous Gamma Globulin): is obtained from human plasma (blood liquid) through a very long process, extracting the IgG (immunoglobulin) from human plasma, thus making the medication expensive. Precise method of administration is not clearly defined. Dosage is based on the patient's weight. Length of procedure is based on the total number of grams and the rate at which it is being given. It is usually started and adjusted slowly.
Reactions to IVIG can include: headaches, chills, fever, shortness of breath, and chest pain.

Complaints and side effects may include: headaches, fever, gastrointestinal upset, nausea, aseptic meningitis syndrome – an inflammation of the meninges (coverings around the brain), causing headaches and stiff neck, but which is not infectious.
Rituximab (Rituxan): recent studies have shown an improvement in muscle strength, rash, and lung problems in people with dermatomyositis and polymyositis. It is administered once every six months, at dosage of 1,000 mg per infusion. Infusion is started slowly and is increased according to the patient's tolerance. The first infusion typically takes a little longer than the second.
Infusion reactions may include: chills, fever, chest pain, and shortness of breath. Symptoms are treated, and it may be necessary to discontinue the infusion. If the symptoms resolve, infusion may be restarted.

Additional, adverse effects may include: serious infections and Progressive Multifocal Leukoencephalopathy (an infection of the brain caused by the John Cunningham virus).

Safety precautions, when receiving rituxan, include: discontinuing when surgery is scheduled or, if active infection is present, screening for hepatitis, and prohibiting the use of live vaccines.
Cyclophosphamide (Cytoxan): is an immunosuppressant, with a significant ability to suppress the immune system. It can be taken orally or given intravenously. Dose is based on the body surface area, calculated by a patient's height and weight. The medication is given over a one-hour time period. The patient is hydrated before and after it is administered. Lab work is required before infusion to check complete blood count levels.
Side effects may include: nausea, vomiting (when taken orally), headaches, infections, low blood counts, and hemorrhagic cystitis (blood in the urine).

Safety precautions when taking cytoxan, include: discontinuing when an active infection is present or when blood levels drop significantly.
Latest Research and Treatment
Dr. Di Martino presented on the latest research and treatment in myositis:
The Rituxan in Myositis (RIM) study was a double blind, randomized, placebo-controlled trial that involved 200 myositis patients with dermatomyositis, polymyositis, or juvenile dermatomyositis, followed for 44 weeks, and who were not responding to treatment.
In this multicenter study, Rituxan was given to each participant intravenously twice over 5-7 hours. The two infusions were given one week apart.
Patients were required to have failed corticosteroid treatment prior to entering the trial and also to have failed an immunosuppressive agent (e.g.methotrexate, immuran) or IVIG. Patients could not continue IVIG but could continue steroid treatment and any immunosuppressive (suppresses the immune system) treatment.
The patient's improvement was measured by the physician through following elements:
muscle strength
CK levels
a visual analog scale of 1-10
health assessment questionnaire
MDAAT, an instrument used to measure problems outside the musculoskeletal system, such as the heart, lungs, and digestive system
In this two-phase trial, Group A received a placebo, and Group B received Rituxan. After 8 weeks, Group A then received Rituxan and Group B received placebo. Therefore, everyone in the trial was eventually treated with Rituxan. The average time for improvement of symptoms was 20.2 weeks to 20.0 weeks. There was no difference in the length of time that it took between the groups in their two consecutive visits to achieve a 20% improvement. At week 8, 21% of Group A and 15% of Group B met the definition of improvement. Improvement was measured by a combination of muscle strength, CK, patient and physician global assessment, and measure of extramuscular disease activity.
Results of the entire trial were that there was improvement in 78% of patients with polymyositis; 82% in those with dermatomyositis, and for 83% of participants with juvenile dermatomyositis.
Serious, adverse events occurred in 26% of the participants, including cardiac, musculoskeletal, and digestive system incidents.
Acthar is a synthetic gel preparation of ACTH (produced by a hormone in the adrenal gland) that can be self-injected subcutaneously or intramuscularly. It is an FDA approved drug for selected cases of polymyositis and dermatomyositis during an exacerbation (or flare) or as maintenance therapy. Ongoing studies are being conducted, as there is limited data on the effectiveness of Acthar in treating polymyositis and dermatomyositis.
Campath for IBM: Previously studied as a potential treatment for patients with IBM. 13 patients were followed for 12 months before being treated with Campath. After treatment, muscle strength had increased and it was shown, through muscle biopsy, that inflammation had decreased.
Member Stories
Myositis Support Group Member Jim Rheingrover spoke about his journey in being diagnosed with polymyositis. He described the various medical ailments, commencing in 2001, which resulted in invasive and radiological diagnostic procedures and medications.
In late 2003, Mr. Rheingrover was misdiagnosed with idiopathic pulmonary fibrosis. He was placed on a list for a lung transplant, a common occurrence for the condition. But in 2005, he received a correct diagnosis of polymyositis. Mr. Rheingrover explained that this diagnosis was a relief since it took him off the list for lung transplant.
But the road for Mr. Rheingrover was not easy. He went through various treatment regimens that included prednisone along with Celcept, Imura, IVIG and large doses of steroids. In 2007, he was hospitalized with idiopathic acute pancreatitis with the cause being unknown. He stopped taking diuretics, which seemed to be a trigger. Later, he suffered complications in December 2011 while having a pacemaker implanted. Luckily, Mr. Rheingrover was discharged within a few days, feeling better than he had for two years.
Mr. Rheingrover maintains a positive attitude as he continues to deal with the challenges of myositis and the complications that have arisen. In terms of medical issues, he stresses the importance of communication among his team of doctors, who share information and treatment recommendations, as well as remaining aware of possible drug interactions.
In terms of the psychological issues of dealing with long term chronic illness, Mr. Rheingrover shared two elements have been key for him:
1) Don't dwell on your problems
2) Share your information and feelings with others when you have the opportunity
Our next member recounted her initial reaction, during the Spring of 2003, to being told that her skin biopsy and blood work were consistent with an autoimmune disease - most likely lupus. She described feelings of panic and terror, as well as the feeling that she had lost her life as she had known it.
During the next 18 months, she underwent many tests and treatment regimens. She developed more symptoms and experienced medication side-effects – the most serious being severe immune suppression. The last of five infections which she developed was a fungal infection which attacked her retina. There was a fear that she might lose vision in her eye and that it could spread to her brain.
She was hospitalized for over a month in November 2004, and was placed in a cardiac intensive care unit. During this time she successfully received her first IVIG treatment, the only remaining viable treatment that might break her flare. She was transferred to a rehabilitation unit and regained enough strength to begin to perform certain basic tasks, specifically those requiring self care. Throughout, she was grateful to be alive and without cardiac damage.
Being diagnosed with myositis was a stressful and terrifying event. But as she faces the challenges along this road, she tries to seek out the positive.
She offered that, at the end of the day, she reflects on three things for which she is grateful:
1) learning how to adapt
2) to re-learn how to do things that she found most pleasurable but are now too challenging
3) to enjoy a profession that allows her flexibility and freedom
In addition to returning to her faith community, she ended her presentation by sharing what she referred to as her six "M's" of gratitude: mind; mouth (to advocate for herself); mate (friends, and family); medical insurance; money; and her myositis buddies, to whom she knows she can talk to when she needs someone to truly "get it."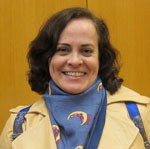 Melly Garcia (pictured on the left) reflected on what the group meant to her and to her loved one, though he has since passed away. Feelings of gratitude and thanks were expressed to the department's director, coordinator, and to the group members who have and had been available to her in times of crisis and loss. She noted that group members have also shared in her joys and celebrations.
Melly underscored all of the support that was provided during these times. She spoke of the six years of love and compassion that she and her loved one felt as group members.
Melly also spoke of the benefit of attending the group with her loved one. She remains an active member, as it continues to provide her with comfort and allows her to give generous support and kindness to others as well.

"Our fear of facing myositis may keep us from seeking support, but in facing this fear, we can gain so much valuable information and support from members."
Mike Caposella has been with the Myositis Support Group since the beginning of the group, in 1997. He has successfully negotiated payment with his medical insurer and offered that he received his 900th IVIG infusion in August.
Though he is unable to attend meetings on a regular basis, he emphasized the importance of the support provided by group members. Mike remains in contact with group members and others that he has met at the Myositis Conference. Mike offered that he reads and benefits from the monthly newsletters.
Mike urged attendance to both our group and the annual TMA conference.
More from our members
Audience members were invited to share what the group has meant to them:
Sarah Heggie: The group has been a source of great comfort and support, especially during times of loss and just, "feeling bad." She recounted a specific moment when she realized how grateful she was to be a part of this group. She lost a brother with whom she had recently re-connected. The group was invited to his memorial service and, at the service, when she turned to see several group members, the coordinator, and the director of social work programs enter, she was overwhelmed by the show of support for her in her time of need. Though her myositis appears to be in remission, she is grateful to know that the group is there for her and that she maintains in contact with members outside of group meetings.
Tom Mariani spoke about the how much the group had meant to him when he was first diagnosed with myositis. He was forced to retire as an officer with the Town of Eastchester Police Department. Support from the group during this transitional period was invaluable to him, as this was a place where he knew he was understood. Tom also added that family responsibilities prevent him from attending the group more often but that he feels connected through the monthly newsletters.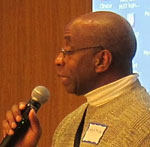 Vodrey Miller (pictured to the left) traveled by train from North Carolina, and then took public transportation with the help of a friend, to attend the anniversary event - his first support group meeting. He has maintained contact with the group coordinator, who has guided him to resources, and cites a lack of awareness and education about myositis to where he lives. With knowledge and support gained, he said he feels more empowered to be informed about his medical treatment. And through TMA, he learned of a gene therapy trial for which he is pleased to be on the waiting list as a participant.

"Being at this event offers the opportunity to connect with others who can relate to challenges."
Julie Hodgman experienced the loss of her career as part of the life-changing event that involved being diagnosed with myositis. She went from working as a caregiver, a nurse, to one who needed care herself.
Julie related the difficulty in making this life transition. In addition to receiving support and caring from others through the group, Julie expressed how being a group member enables her to give back support and care to others as well.
Larry Wilkes discussed his experience at the annual Myositis Association Patient Conference. Here, he realized that many experience great frustration in the time leading to an accurate diagnosis. Often, it is the first encounter that their doctors have had with myositis. Inspired by speakers at the conference, he decided to be evaluated at a hospital. He then encountered considerable resistance from his insurance company.
Despite receiving many "no's" to his request for a full evaluation and workup, he eventually received the "yes" he was seeking. He emphasized the importance of self-advocacy and not accepting "no" for an answer. He gave this message to the audience as a way to feel empowered and to take a greater charge of one's own care. He further expressed his appreciation for the support received at the group meetings.
Lastly, Jennifer Louziotis, LMSW, was able to provide a unique perspective of the group's history. As the first coordinator of the Myositis Support Group, when she was a student intern, Jennifer shared that the group began as a pilot program, with six scheduled meetings. When this had come to an end, the six group members voiced strongly the need for this group to continue.
Through the combined efforts of Jennifer, the Department of Social Work Programs, and the Division of Rheumatology, these voices were heard; and the group has continued through five more coordinators, growing into what it is today. To paraphrase the great anthropologist, Margaret Mead: "Never underestimate the power of small groups to create change!"
Expressions of Appreciation
Suzan offered very special thanks to the following for their contributions to the group and to the evening's celebration:
Past coordinators: Jennifer Louziotis, LMSW, Laura Lowery, LMSW, Su Jin Kim, LCSW, Abby Bradford, LMSW. Wendy Doran-Paley, LMSW and Angela Rudden, LMSW
Past and present KIT representatives: Pixie Allison, Mike Caposella, Kim O'Connell, Stan Pohl, and Katie Weyhrauch
Bob Goldberg and The Myositis Association
Linda Leff, RN-BC, MPA
Stephen Di Martino, MD, PhD
Roberta Horton, LCSW, ACSW
Panel and group members in the audience and special musical performer
The evening ended with a special performance by one of the group members, who sang "Feeling Good," by Nina Simone. In her introduction, the member described the personal difficulties of working a full-time job and raising a family, while being treated for myositis.
The 15th anniversary brought group members together to celebrate some of the extraordinary accomplishments achieved by previous group facilitators, HSS staff members, and - most of all - the group members.
This evening could not have been possible without the combined efforts of those who participated in this event, as well as those who contributed, but could not be present to celebrate. It is through the belief that being together, through sharing information, and by staying connected, that a difference can be made in the lives of those affected by myositis.
It is through the membership that the group continues to exist and grow and has allowed for the opportunity to see "where we were then and where we are now."
Posted: 5/20/2013
Authors
Suzan Fischbein, LCSW
Myositis Support Group Coordinator, Hospital for Special Surgery
Summary by Suzan Fischbein, LCSW, Myositis Support Group Coordinator