HSS Sports Medicine Service surgeons Edward Craig, MD, MPH, David Dines, MD, and Surgeon-in-Chief Emeritus Russell Warren, MD, have collaborated for nearly thirty years to invent new implant designs that have transformed the field of shoulder replacement.
Through a shared commitment to innovation and improving results for their patients, they have helped shoulder replacement become the fastest growing joint replacement procedure today. Currently, some 73,000 shoulder replacements are performed each year in the United States, and that number is growing by more than ten percent annually. HSS is one of the highest volume centers in the country for these procedures. "The success of our designs is the reason these numbers have risen. The results have been excellent," says Dr. Dines.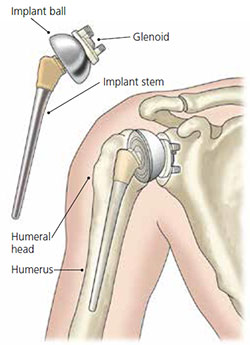 Shoulder replacement surgery can be highly successful in reducing extreme shoulder pain and improving range of motion for people with advanced arthritis or a severely displaced fracture. "Shoulder replacement has changed the lives of patients with extreme shoulder pain, often giving them back their full range of motion and ability to function without pain," says Dr. Craig.
Shoulder implants are similar to hip implants – with a ball and stem to replace the damaged humeral head, or ball. Shoulder implants are attached to the socket in the shoulder blade known as the "glenoid." Initially, both hip and shoulder implants were single pieces of metal containing both a ball and a stem.
In the early 1980s, hip implant design evolved into a modular design – the balls and stems were now separate pieces manufactured in a variety of sizes, so that surgeons could select combinations to give each patient a perfect fit, closely mimicking the patient's healthy joint.
Achieving A Perfect Fit
HSS surgeons realized that shoulder implants would benefit from a modular design as well. They teamed up with a company called Biomet to design a modular shoulder implant, which entered the market in 1988 and offered many sizes and combinations of stems and balls. The modular implant became the basis of all shoulder implant systems used today. Better fit led to improved short-term and long-term results for patients, who experienced reduced pain, improved range of motion, and less implant loosening over time.
"Now we could fit the implant for the patient instead of fitting the patient for the implant. It was patient-specific. This helped patients immediately get better results," says Dr. Dines.
"Originally people were very critical of modularity and didn't think we needed it. Now all systems have it. This idea changed the field," says Dr. Warren.
Improved Materials
Today, Dr. Warren, Dr. Dines and Dr. Craig still collaborate to invent new and improved systems. In designing an implant, materials are as important as shape and size. From the beginning, the HSS design used titanium for its ability to stimulate bone in-growth. Bone in-growth leads to a tight fit and minimizes implant loosening down the road. "With our design we usually don't need to use cement in patients with osteoarthritis – we put the implant in with a 'press fit.' So the loosening of the prosthesis with this system is extremely uncommon," says Dr. Warren.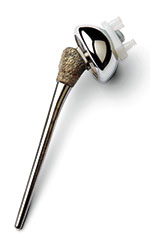 While HSS surgeons achieve good outcomes in total shoulder replacement, the leading long-term complication has always been glenoid socket loosening. To address this problem, in the early 2000s, the HSS surgeons and their Biomet collaborators invented a "hybrid glenoid" made of Regenerex® Porous Titanium Construct, a porous surface that stimulates bone growth.
This innovation has improved long-term fixation of the implant, reducing implant loosening over time. While the team is still studying long-term outcomes of the hybrid glenoid, early results are positive for bone in-growth and implant fixation.
"We're going to keep following patients over the long term, but we predict that this model will last much longer than earlier models. That's what we do – continuous follow-up to make sure loosening doesn't occur," says Dr. Craig.
Continuous Improvement
Dr. Warren, Dr. Dines, and Dr. Craig remain committed to advancing total shoulder replacement surgery. For instance, they worked with Biomet to design a "Reverse Shoulder Prosthesis," making it possible for patients with badly damaged rotator cuffs to undergo shoulder replacements by reversing their anatomy with the insertion of the plastic socket onto the stem and inside the humeral bone, and the metal ball on the socket side of the glenoid.
While the initial concept for the Reverse Shoulder originated in Europe, the HSS surgeons were instrumental in bringing an improved version of this procedure to patients in the United States. The newest model allows for a conversion from a total shoulder replacement to a reverse system without removing the stem, significantly simplifying surgery when a revision is necessary and improving results.
In the future, they hope to achieve even better fixation and better materials that will further enhance the patient experience. "Everyone at HSS is constantly looking at results so we can make changes and improvements. This process forces you to be a better doctor," says Dr. Dines.
Read the full Discovery to Recovery Fall 2013 issue.
Posted: 2/4/2014
Authors