From Grand Rounds from HSS: Management of Complex Cases | Volume 7, Issue 1
Case Report
A 57-year-old man presented with worsening mechanical right hip pain and limb length discrepancy after multiple hip surgeries. He was injured in a motorcycle accident at age 32 and underwent open reduction and internal fixation of a right acetabular fracture. He subsequently developed post-traumatic arthritis and underwent conversion to a total hip arthroplasty (THA). He underwent 4 revision THA procedures, most recently 9 years prior. He required crutches for ambulation. He denied infectious symptoms. He was an active smoker but was otherwise healthy.
On examination, the patient had a well-healed incision over the right hip and a painful limp. Clinical limb-length measurement revealed 3-cm shortening of the right leg, with normal lower-extremity sensation, normal distal power, and 4/5 right hip abductor strength. Right hip radiographs revealed a long-stem uncemented femoral component and a loose acetabular component with broken screws and extensive osteolysis (Fig. 1).

Figure 1: Preoperative Judet radiographs of the right hip showing acetabular and iliac bone loss with broken hardware and evidence of loose acetabular component.
Laboratory testing was significant for elevated inflammatory markers including serum white blood cell (WBC) count of 13.9/nL, erythrocyte sedimentation rate of 9 mm/hr, and C-reactive protein level of 4.3 mg/dL. Aspiration of the right hip yielded 100 cc of clear fluid with a synovial WBC count of 0/nL and negative cultures. Additional imaging included a computed tomography (CT) scan to assess bone stock and for preoperative planning (Fig. 2).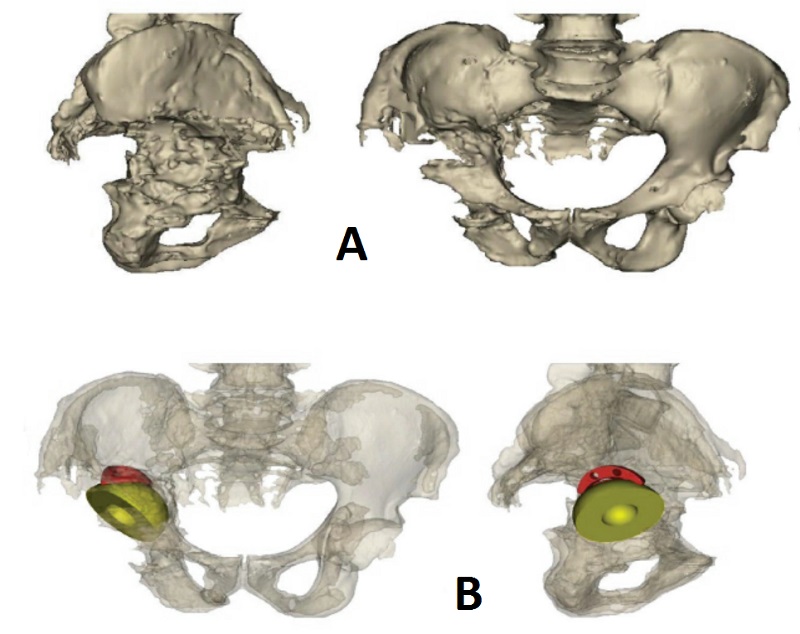 Figure 2: (A) Anteroposterior and lateral CT 3-dimensional reconstructions of pelvis used for preoperative planning revealing Paprosky IIIa acetabular defect and (B) Anteroposterior and lateral reconstructions showing planned orientation of trabecular metal buttress and shell.
A revision THA was performed through a posterior approach. Chronic nonunion of the greater trochanter was encountered and preserved within a digastric muscle sleeve, consisting of the gluteus medius proximally and the vastus lateralis distally. Loose hardware was removed along with metal debris deposited in the surrounding soft tissues. Intraoperative aspiration, frozen section, and cultures were negative for infection. The femoral component was stable and left in place. The acetabular component was grossly loose and easily removed. Acetabular and iliac bone loss was consistent with a Paprosky IIIa acetabulum [1]. The posterior–superior defect and acetabulum were prepared. The trabecular metal buttress was implanted as a posterior column buttress corresponding with preoperative planning. A 74-mm trabecular metal revision shell was impacted into appropriate position using computer-assisted navigation and secured with screws. Bone cement was applied to unitize the trabecular metal components, and a 60-mm dual mobility shell was cemented within the jumbo cup. A +10-mm femoral head was mated with the appropriate mobile polyethylene and reduced with good stability throughout a range of motion.
Discharged home on postoperative day 2, the patient recovered without complication and was restricted to 20-lb foot-flat weight bearing with crutches for 6 weeks. He progressed to 50% (partial) weight bearing at 6 weeks and full weight bearing at 3 months after surgery. He reported no hip pain, minimal limp, and resolution of his limb length discrepancy.
Discussion
Revision acetabular surgery presents a challenge to achieving stable fixation and reducing the chance of instability. Paprosky IIIa acetabular defects can be treated with a trabecular metal augment and trabecular metal shell. Jenkins et al. recently reported a retrospective review of 85 hips treated with this type of construct with 97% survivorship at 10 years [2]. Cementing a liner within a well-fixed cup has been described by Beaulé et al. with a 78% 5-year survival rate and a 22% dislocation rate [3]. Increased instability after revision hip surgery is a commonly encountered complication [4]. Thus, articulations with enhanced stability, such as dual-mobility constructs and fully constrained liners, should be strongly considered for use in revision THA. A fully constrained liner was not used in this case, as it may have a higher risk of failure in patients of younger age and with higher activity levels [5]. The use of a dual-mobility cup has been shown to reduce dislocation rates after revision THA [6]. In the current case, the cup-in-cup construct using (1) the trabecular metal cup and augment and (2) a dual-mobility bearing couple maximized the probability of biological fixation and minimized the risk of postoperative instability, respectively.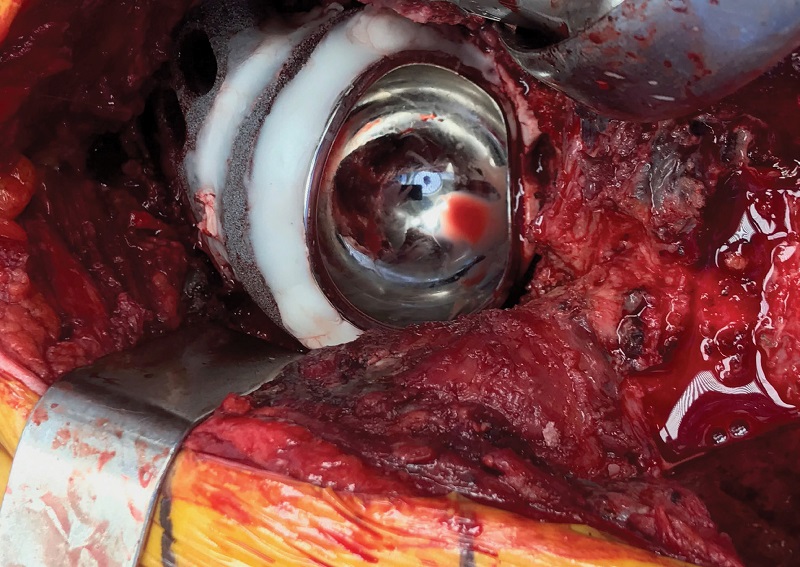 Figure 3: Intraoperative photo of final acetabular reconstruction.

Figure 4: Postoperative right hip radiographs: (A) antero posterior view; (B) cross-table lateral view.
Posted: 1/1/2018
Authors

Jason L. Blevins, MD
Assistant Attending Orthopedic Surgeon, Hospital for Special Surgery
Assistant Professor of Orthopedic Surgery, Weill Cornell Medical College

Alexander S. McLawhorn, MD, MBA
Director of Research and Innovation, ARJR Service, Hospital for Special Surgery
Assistant Attending Orthopedic Surgeon, Hospital for Special Surgery
References
Paprosky WG, Perona PG, Lawrence JM. Acetabular defect classification and surgical reconstruction in revision arthroplasty. J Arthroplasty. 1994;9(1):33–44. doi:10.1016/0883-5403(94)90135-X.
Jenkins DR, Odland AN, Sierra RJ, Hanssen AD, Lewallen DG. Minimum five-year outcomes with porous tantalum acetabular cup and augment construct in complex revision total hip arthroplasty. J Bone Joint Surg Am. 2017;99(10):e49. doi:10.2106/JBJS.16.00125.
Beaulé PE, Ebramzadeh E, Le Duff M, Prasad R, Amstutz HC. Cementing a liner into a stable cementless acetabular shell: the double-socket technique. J Bone Joint Surg Am. 2004;86-A(5):929–34.
Wetters NG, Murray TG, Moric M, Sporer SM, Paprosky WG, Valle Della CJ. Risk factors for dislocation after revision total hip arthroplasty. Clin Orthop Relat Res. 2013;471(2):410–6. doi:10.1007/s11999-012-2561-7.
Noble PC, Durrani SK, Usrey MM, Mathis KB, Bardakos NV. Constrained cups appear incapable of meeting the demands of revision THA. Clin Orthop Relat Res. 2012;470(7):1907–16. doi:10.1007/s11999-011-2212-4.
Philippot R, Adam P, Reckhaus M, Delangle F, Verdot FX, Curvale G, et al. Prevention of dislocation in total hip revision surgery using a dual mobility design. Orthop Traumatol Surg Res. 2009;95(6):407–13. doi:10.1016/j.otsr.2009.04.016.