From Grand Rounds from HSS: Management of Complex Cases | Volume 7, Issue 3
Case Report
A 21-year-old woman was hospitalized at 23 weeks and 5 days of pregnancy because of epigastric pain and nausea lasting 3 days.
She had had systemic lupus erythematosus (SLE) for 4 years and proteinuria and microscopic hematuria for 6 months; renal biopsy showed class IV and class V lupus glomerulonephritis without chronicity. Shortly after the biopsy, she had learned she was pregnant. After discussion of treatment options and potential risks, she opted to continue her pregnancy on high-dose corticosteroids, tacrolimus, azathioprine, hydroxychloroquine, and low-dose aspirin, the latter added to reduce risk of preeclampsia. Proteinuria improved, but hypertension worsened, requiring initiation and dose escalation of nifedipine.
On admission, her blood pressure was 210s/120s. She had mild periorbital edema but no stigmata of active lupus. Aspartate aminotransferase and alanine amino-transferase levels were 120 and 65 U/L, respectively; uric acid was 7.5 mL/dL, and platelet count was 163 × 103/μL, down from 363 × 103/μL 6 weeks earlier. Haptoglobin was low, lactate dehydrogenase high, anti-double-stranded DNA antibody positive but unchanging, C3 improving to normal, and C4 mildly depressed but improving. Urinary protein increased to 7.7 g/day (Fig. 1). Lupus anticoagulant and anticardiolipin antibody were absent. Abdominal ultra-sound showed only mildly heterogeneous hepatic echotexture.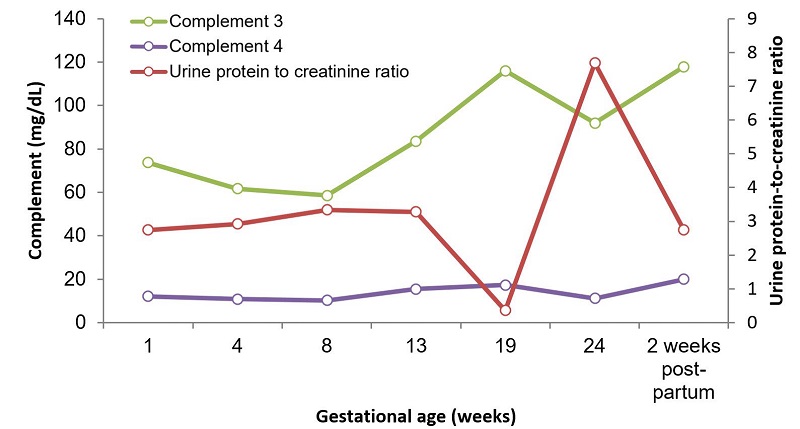 Figure 1: Laboratory data trend.
She was treated with antihypertensive agents, intravenous magnesium, and betamethasone for fetal lung protection. Serial fetal growth ultrasound scans showed fetal weight decreasing to less than 1% of predicted for 24 weeks' gestational age. With anasarca and respiratory distress, the patient was transferred to intensive care, where she consented to induction of labor. The fetus was not viable. Following delivery, her respiratory status and blood pressure rapidly improved; tacrolimus was discontinued in favor of mycophenolate mofetil prior to discharge.
Discussion
Lupus nephritis is associated with adverse pregnancy outcomes, including preeclampsia and prematurity [4]. While deferral (or termination) is safer for women with active lupus nephritis, some patients choose to proceed with pregnancy.
Preeclampsia is defined either by hypertension beginning after 20 weeks' gestation plus proteinuria or, in the absence of proteinuria, by hypertension plus thrombocytopenia, elevated serum creatinine, transaminitis, pulmonary edema, or cerebral or visual symptoms [1], and it can be difficult to distinguish from active lupus nephritis. Hyperuricemia and hypoalbuminemia are included in international guidelines [2]. These features can appear in both preeclampsia and lupus nephritis; rising anti-double-stranded DNA antibody, falling complement levels, and clinical evidence of active SLE such as rash or arthritis suggest lupus nephritis, which may require escalation of immunosuppressive therapy, including corticosteroids. In preeclampsia, prudent use of corticosteroids is indicated. In this case, stable DNA antibody and normal or near normal complement levels pointed to preeclampsia.
The use of low-dose aspirin reduces the incidence of preeclampsia in pregnant women at high risk and is recommended for patients with active lupus, including lupus nephritis [3]. Depending on the severity of preeclampsia, expectant management or consideration of preterm delivery may be appropriate, as in this case [1]. When preeclampsia occurs early in pregnancy, as is common in women with lupus, the benefits to the fetus of extending pregnancy must be weighed against the risks to the mother, which may be grave.
Posted: 10/1/2018
Authors

Sarah B. Lieber, MD, MS
Assistant Attending Physician, Hospital for Special Surgery
Assistant Professor of Medicine, Weill Cornell Medicine
Michael D. Lockshin, MD
Director Emeritus, Barbara Volcker Center for Women and Rheumatic Disease
References
American College of Obstetricians and Gynecologists. Task Force on Hypertension in Pregnancy. Hypertension in pregnancy: report of the American College of Obstetricians and Gynecologists' Task Force on Hypertension in Pregnancy. Obstet Gynecol. 2013;122(5):1122–1131.
Magee LA, Pels A, Helewa M, et al. Diagnosis, evaluation, and management of the hypertensive disorders of pregnancy: executive summary. J Obstet Gynaecol Can. 2014;36(5):416–38.
Schramm AM, Clowse MEB. Aspirin for prevention of preeclampsia in lupus pregnancy. Autoimmune Diseases. 2014. doi: 10.1155/2014/920467
Smyth A, Oliveira GH, Lahr BD, et al. A systematic review and meta-analysis of pregnancy outcomes in patients with systemic lupus erythematosus and lupus nephritis. Clin J Am Soc Nephrol. 2010;5(11):2060–2068.