From Grand Rounds from HSS: Management of Complex Cases | Volume 7, Issue 1
Case Report
A 55-year-old woman presented with worsening left groin and lateral hip pain for 2 months that was aggravated by weight bearing and shifting of body weight, particularly in bed. She also noted "noises" coming from her hip with activity. Her medical history included juvenile rheumatoid arthritis requiring multiple orthopaedic surgeries, as well as hypothyroidism and chronic bilateral foot drop. She was not taking disease-modifying antirheumatic drugs (DMARDs), biologics, or steroids for rheumatic disease.
The patient had bilateral total hip arthroplasty (THA) at age 13 and had subsequently undergone multiple revision hip procedures. Her most recent left hip surgery, 7 years prior, was revision using a custom triflange acetabular component and a modular tapered femoral component.
At baseline, the patient was confined to a wheelchair, using her lower limbs for transfers. She wore ankle-foot orthotics on both lower extremities. On physical examination, she was 4 ft., 10 in. tall and weighed 148 lbs. (body mass index, 30.9). She had 0° to 90° of active flexion in both hips; muscle strength of 4/5 for hip flexion and extension and knee extension and flexion; and ankle and great toe dorsiflexion strength of 0/5.
Serial radiographs revealed a failed left acetabular triflange component with loosening of the ischial and ilial flanges (Fig. 1). Computed tomographic (CT) imaging showed radiolucency medial to the acetabular component along with displacement of the ischial portion of the left triflange, suggestive of loosening (Fig. 2). Tests for infection including erythrocyte sedimentation rate, C-reactive protein level, and hip aspiration were negative.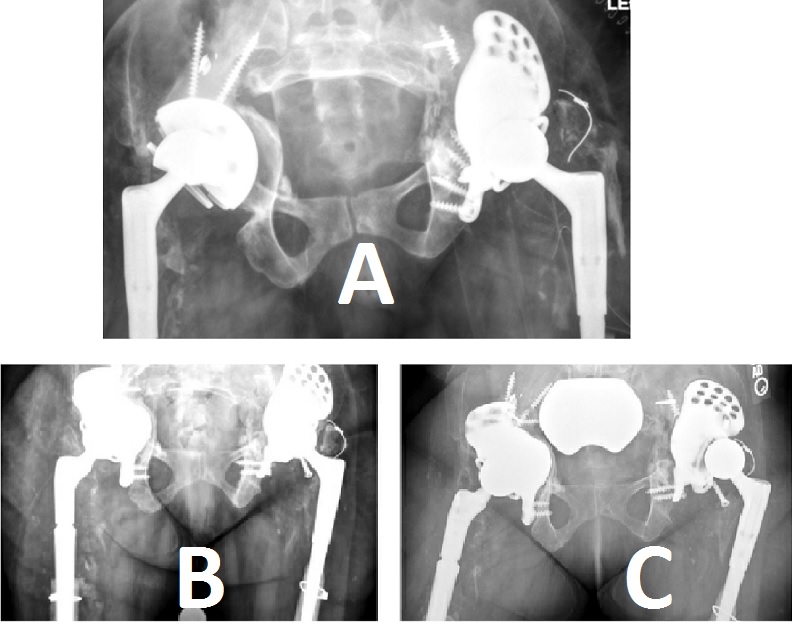 Figure 1: Serial radiographs showing progressive loosening of left triflange implant: (A) immediate postoperative; (B) 4 years later; (C) 7 years later.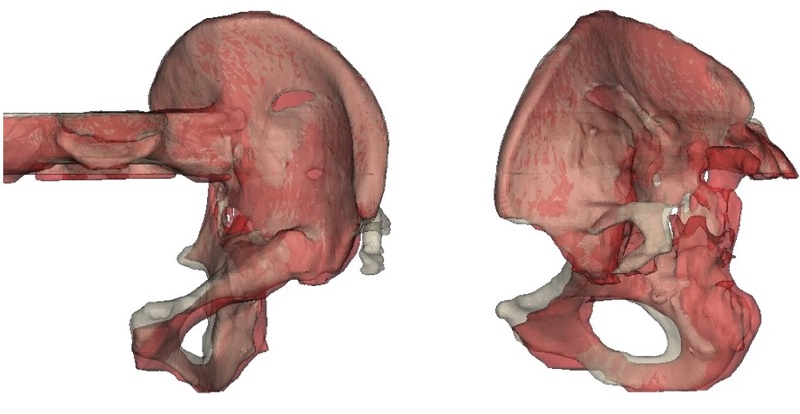 Figure 2: Comparative 3-dimensional reformatted CT images showing a shift in ischial position from 2010 (shown in red) to 2017 (shown in gray), suggestive of loosening.
The patient underwent revision left THA with a custom biflange acetabular component. To reduce the risk of early prosthetic loosening, initial fixation was enhanced by cement injected into ischial screw holes prior to screw placement (Fig. 3). With distalizing and medializing of the acetabular component the hip could not be reduced, but stable reduction was achieved by shortening the proximal body of the modular tapered stem.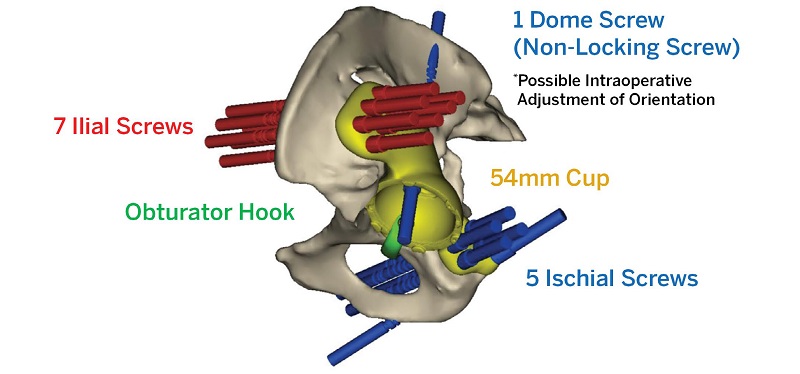 Figure 3: Biflange construction demonstrating ilial screws, ischial screws (including long homerun screw), dome screw, and obturator hook.
Preoperative planning using 3-dimensional reconstructions and computer modeling—in collaboration with the HSS Biomechanics Department—allowed shortening of the femoral component to be anticipated. Intraoperatively, it was necessary to elevate the sciatic nerve, which was encased in scar tissue adhering to the posterior ischium.
Postoperative radiographs showed accurate placement of the acetabular component (Fig. 4). The patient was toe-touch weight bearing for 6 weeks after surgery; weight bearing was increased gradually over several months. Eight months after surgery she uses a walker, weight bearing as tolerated, for short distances and has no pain in her hip.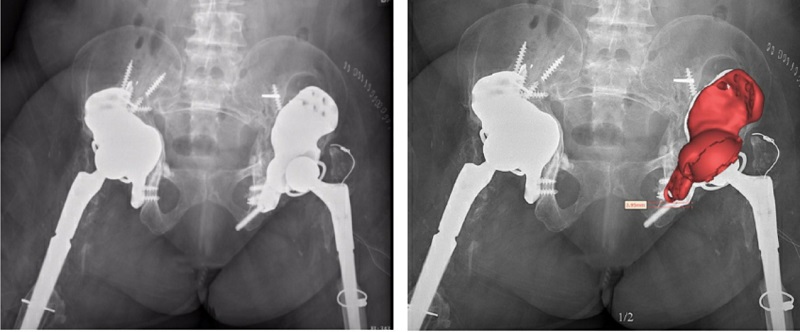 Figure 4: Postoperative images: (A) immediate postoperative image of the left hip; (B) planned position compared with actual position, showing < 4 mm discrepancy.
Discussion
A biflange or triflange acetabular component is a customizable implant option for Paprosky IIIA-IIIB defects [1-4]. These custom components for large acetabular defects are rigid (unlike traditional cages) and have the potential for biologic ongrowth; a plasma-sprayed porous coating with a hydroxyapatite layer promotes bone ongrowth. The implant can address large amounts of bone loss while providing immediate fixation using multiple screws.
When a previous custom triflange acetabular implant has failed, leaving large acetabular defects, the surgeon must determine the reasons for failure so as to increase the chance of success of the next implant. In this case, contributing factors included poor existing bone stock, the small number of screws used in the ischial and ilial flanges, the older screw design (closely spaced shallow threads leading to reduced screw pullout strength), and failure to medialize the cup as much as possible to improve hip biomechanics.
The surgical team employed several engineering and surgical principles to enhance fixation while addressing the existing defect: (1) 7 screws were placed in the ilium, the largest bony contact point; (2) 5 ischial screws were placed, including a long "homerun" screw (Fig. 3), which reduces the risk of ischial lift off (the most common mode of failure from posterior—superior directed forces of an adducted hip); (3) a long dome screw was placed along the sciatic buttress (Fig. 3); (4) a biflange design with only 2 points of bone contact is easier to seat than a traditional triflange implant; an obturator hook that adds an extra point of fixation against ischial liftoff to a biflange construct can also be used, considered in this case but not required; (5) safe implant placement requires a large posterolateral exposure and identification of the sciatic nerve; and (6) purposely medializing the hip center reduces shear forces, reducing the risk of late implant failure [5].
Medializing the implant is necessary as the constrained liner effectively lateralizes the hip center by up to 3 mm. As seen in our case, shortening of the modular femoral compo-nent may be necessary for subsequent joint reduction in multiply revised individuals with a high hip center and large amounts of scar tissue. This case also highlights the importance of the multidisciplinary approach that is often necessary for these complex cases.
Posted: 1/1/2018
Authors
Colin Y. L. Woon, MD
Orthopaedic Surgery
Fellow Adult Reconstruction & Joint Replacement
Hospital for Special Surgery
Peter H. Sun, MS
Design Engineer
Hospital for Special Surgery
Michael B. Cross, MD
References
Sheth NP, Nelson CL, Springer BD, Fehring TK, Paprosky WG. Acetabular bone loss in revision total hip arthroplasty: evaluation and management. J Am Acad Orthop Surg. 2013;21(3):128-139. doi:10.5435/JAAOS-21-03-128.
Abdel MP, Trousdale RT, Berry DJ. Pelvic discontinuity associated with total hip arthroplasty: evaluation and management. J Am Acad Orthop Surg. 2017;25(5): 330-338.doi:10.5435/JAAOS-D-15-00260.
Berasi CCt, Berend KR, Adams JB, Ruh EL, Lombardi AV, Jr. Are custom triflange acetabular components effective for reconstruction of catastrophic bone loss? Clin Orthop Relat Res. 2015; 473(2):528-535. doi:10.1007/s11999-014-3969-z.
Buckup J, Salinas EA, Valle AG, Boettner F. Treatment of large acetabular defects: a surgical technique utilizing impaction grafting into a metallic mesh. HSS J. 2013; 9(3):242-246. doi:10.1007/s11420-013-9350-z.
Barlow BT, Oi KK, Lee YY, Carli AV, Choi DS, Bostrom MP. Outcomes of custom flange acetabular compo-nents in revision total hip arthroplasty and predictors of failure. J Arthroplasty. 2016;31(5):1057-1064. doi: 10.1016/j.arth.2015.11.016.