From Grand Rounds from HSS: Management of Complex Cases | Volume 7, Issue 3
Case Report
A 59-year-old man was referred for periorbital edema and prostatitis following immunotherapy for metastatic renal cell carcinoma diagnosed 1 year prior. The patient received combination ipilimumab/nivolumab followed by nivolumab monotherapy, with partial tumor response. Two months after immunotherapy initiation, he developed thyroiditis. Five months later, he was hospitalized for prostatitis, confirmed by magnetic resonance imaging (MRI) (Fig. 1), that was unresponsive to antibiotics but improved with corticosteroids. The prostatitis was thought to be related to immunotherapy, which was discontinued.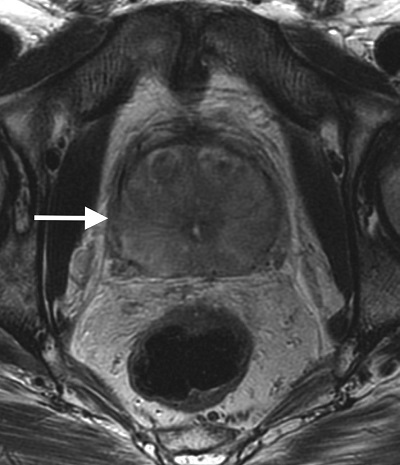 Figure 1: An MRI scan of the prostate shows diffuse inflammatory changes consistent with prostatitis (infiltration of fat around prostate gland indicated by arrow).
While the corticosteroids were tapered, the patient developed bilateral parotid gland pain and swelling, lacrimal gland swelling with periorbital edema, and unilateral knee arthritis. Arthrocentesis revealed 25,000 white blood cells/μL (95% polymorphonuclear leukocytes), absent crystals, and negative cultures. An MRI of the orbits demonstrated bilateral dacryoadenitis (Fig. 2). His symptoms worsened when prednisone was tapered to 40 mg daily. Mycophenolate mofetil was initiated. Subsequently, the patient developed transaminitis (aspartate aminotransferase, 306; alanine aminotransferase, 1100). Liver biopsy revealed mixed inflammatory infiltrate. Testing was unremarkable for rheumatoid factor, complement, and immunoglobulin G subclasses, as well as anti-cyclic citrullinated peptide, anti-smooth muscle, anti-mitochondrial, liver-kidney microsome type 1, antinuclear, and extractable nuclear antigen antibodies. His liver injury responded to steroids (methylprednisolone 180 mg daily) and mycophenolate up-titration (3 g daily).
As steroids were tapered, hydroxychloroquine was added for worsening eye dryness, hand stiffness, and shoulder pain. His symptoms subsequently improved, although hydroxychloroquine was held 6 months later due to diarrhea. After 1 year, mycophenolate was discontinued due to minimal remaining symptoms on methylprednisolone 2 mg daily. The patient developed adrenal insufficiency from immunotherapy vs. chronic steroid use, and hydrocortisone replaced methylprednisolone. Three years after cancer diagnosis, the patient is asymptomatic on hydrocortisone and in longstanding partial remission.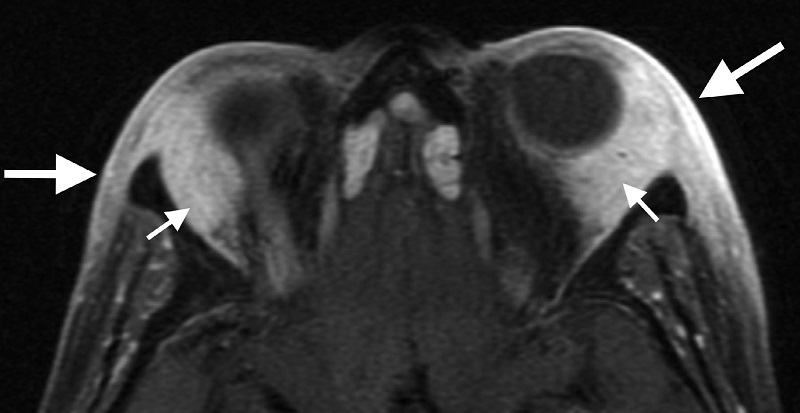 Figure 2: An MRI scan of the orbits shows extensive inflammation involving enlarged lacrimal glands (small arrows) and soft tissues (large arrows), consistent with bilateral dacryoadenitis.
Discussion
Immunotherapy augments anti-tumor immune response by inhibiting checkpoints that would otherwise downregulate immune system activity. Ipilimumab targets cytotoxic T-lymphocyte antigen 4 (CTLA-4), and nivolumab targets programmed cell death 1 (PD-1) [3]. Immunotherapy use can improve cancer survival but also cause an array of immune-related adverse events weeks to months after immunotherapy initiation or discontinuation. These may include colitis, pneumonitis, hypophysitis, uveitis, hepatitis, adrenal insufficiency, nephritis, arthritis, and rash [3].
Following immunotherapy our patient developed polyglandular inflammation involving the prostate, parotid, and lacrimal glands, hepatitis, and arthritis that responded to immunosuppression. Cappelli et al. report 13 patients who received ipilimumab/nivolumab; 4 developed sicca syndrome, 1 with Sjögren's antibodies [1]. Prostatitis caused by immunotherapy is uncommon. Kwon et al. conducted a randomized, double-blind trial in which 799 men with metastatic prostate cancer received radiotherapy followed by ipilimumab or placebo [2]. Patients receiving ipilimumab vs. placebo experienced more adverse events (75% vs. 45%), most of them immune related. No patient developed prostatitis, and studies using combination immunotherapy for prostate cancer are ongoing.
Immunosuppression is the cornerstone of managing immune-related adverse events, and treatment strategies follow algorithms derived from expert experience. Corticosteroids are commonly used. Other agents are added based upon organ system involvement. For example, colitis is treated with infliximab, a medication used for inflammatory bowel disease [3]. Inflammatory arthritis has been successfully managed with corticosteroid monotherapy or steroid-sparing agents including hydroxychloroquine, methotrexate, and infliximab [4].
Posted: 10/1/2018
Authors


Anne R. Bass, MD
Attending Physician, Hospital for Special Surgery
Professor of Clinical Medicine, Weill Cornell Medical College
References:
Cappelli LC, Gutierrez AK, Baer AN, et al. Inflammatory arthritis and sicca syndrome induced by nivolumab and ipilimumab. Ann Rheum Dis. 2017;76(1):43–50.
Kwon ED, Drake CG, Scher HI, et al. Ipilimumab versus placebo after radiotherapy in patients with metastatic castration-resistant prostate cancer that had progressed after docetaxel chemotherapy (CA184-043): a multicentre, randomised, double-blind, phase 3 trial. Lancet Oncol. 2014;15(7):700–712.
Postow MA, Sidlow R, Hellmann MD. Immune-related adverse events associated with immune checkpoint blockade. N Engl J Med. 2018;378(2):158–168.
Smith MH, Bass AR: Arthritis after cancer immunotherapy: symptom duration and treatment response. Arthritis Care Res (Hoboken). 2017. doi: 10.1002/acr.23467.