From Grand Rounds from HSS: Management of Complex Cases | Volume 7, Issue 3
Case Report
A 76-year-old white man with a history of coronary disease and hypertension presented to the emergency department (ED) for the evaluation of an erythematous and edematous right middle finger. Six weeks prior, he had developed "red bumps and rash" on his right leg along with pain in his ankles and toes and had gone to his local ED when the joint pain worsened with left leg extension. He was discharged with steroids and antibiotics. Symptoms partially improved, until his finger swelling began.
On exam multiple small indurated and erythematous nodules were noted on the lateral aspect of both feet and shins. The diffusely swollen right middle finger was violaceous, with severe tenderness (Fig. 1).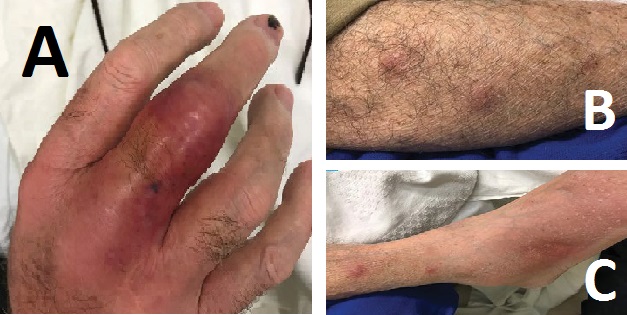 Figure 1: (A) Swollen and tender right middle finger. (B and C) Nodular panniculitis lesion in legs.
On further questioning, the patient disclosed a 20-lb weight loss in the prior 2 months. Laboratory analysis revealed a mild increase in total bilirubin, and abdominal ultrasound revealed a pancreatic mass and several hepatic masses. A diagnosis was made of pancreatitis, panniculitis, and polyarthritis (PPP) syndrome, with a presumed pancreatic malignancy. The patient's serum lipase level was more than 3500 U/L, with an elevated erythrocyte sedimentation rate (87 mm/hr) and C-reactive protein level (21.4 mg/L). Because infection was a concern, incision and drainage were performed on the right middle finger. All cultures sent were negative. Biopsy of the pancreatic and hepatic masses were positive for an acinar cell carcinoma. During initial treatment with chemotherapy, skin lesions and joint pain improved with the declining lipase levels.
Discussion
PPP syndrome is rare, associated with both benign (e.g., pancreatitis or pseudocysts) and malignant pancreatic conditions. Acinar cell carcinoma has been reported as the most common malignancy associated with PPP [3]. The pathophysiology of the panniculitis and arthritis is related to hyperlipasemia, in which lipase and other proteases are released into the bloodstream, causing adipose tissue necrosis and skin lesions. In addition, synovial effusion, joint inflammation, and bone infarction can occur. Panniculitis can be the initial manifestation of both benign and malignant conditions, presenting with or without arthritis.
Arthritis symptoms can present in poly-, oligo-, and monoarticular manner (polyarticular being the most common), most often affecting the ankles, the small joints of the hands, and the knees, in that order [1]. Bone infarction, usually aseptic (as in this case), may be detected by magnetic resonance imaging (MRI) [2] (Fig. 2).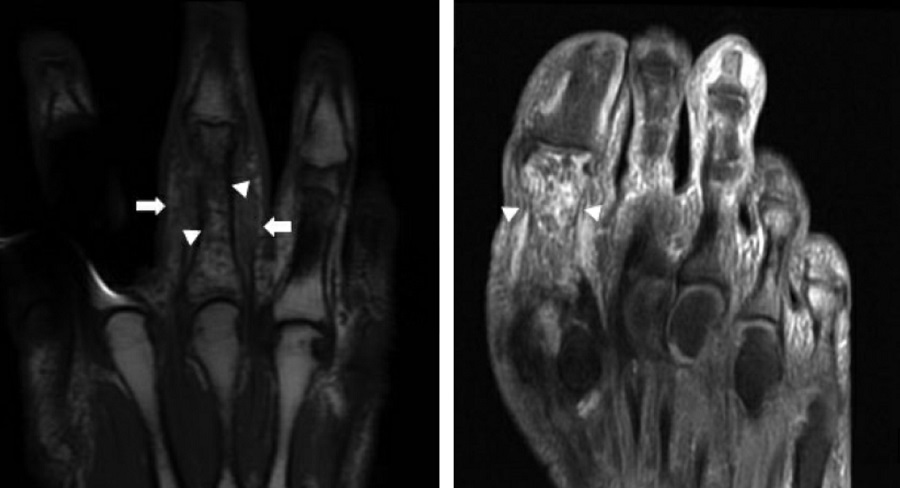 Figure 2: (A) Right hand MRI T1 coronal image showing patchy infiltration of the bone (arrowheads) and patchy infiltration of the fat (arrows). (B) Left foot MRI T1 weighted fat-suppressed image following intravenous contrast administration with enhancement with periosteal edema in first proximal phalanx (arrowheads).
Subcutaneous nodules—painful or painless, edematous and violaceous—usually occur in the lower extremities. They sometimes ulcerate and drain a viscous, creamy discharge, which is sterile. Pathology shows a septal necrotizing panniculitis with neutrophil infiltration. After his initial visit, our patient had a biopsy of one of these nodules that was reported as "traumatic fat necrosis."
Treatment with nonsteroidal anti-inflammatory drugs, steroids, and high doses of intravenous octreotide, an octapeptide inhibitor of pancreatic hormones, has been reported, although it is usually ineffective [3]. Treatment of the underlying condition, with normalization of pancreatic enzymes, is the only effective approach. Usually, skin lesions regress completely, as they did in our patient, although arthritis symptoms can sometimes persist due to structural damage.
Patients with pancreatic malignancy and panniculitis (either with or without arthritis) seem to have a shorter median survival time than patients without this presentation [3]. Since PPP syndrome can be an initial presentation of this aggressive malignancy, prompt recognition and workup are vital.
Posted: 10/1/2018
Authors
Sebastian E. Sattui Cortes, MD
Rheumatology Fellow
Hospital for Special Surgery

Steven K. Magid, MD
Attending Physician, Hospital for Special Surgery
Professor of Clinical Medicine, Weill Cornell Medical College
References
Ferri V, Ielpo B, Duran H, et al. Pancreatic disease, panniculitis, polyarthrtitis syndrome successfully treated with total pancreatectomy: Case report and literature review. Int J Surg Case Rep. 2016;28:223–226.
Kang DJ, Lee SJ, Choo HJ, Her M, Yoon HK. Pancreatitis, panniculitis, and polyarthritis (PPP) syndrome: MRI features of intraosseous fat necrosis involving the feet and knees. Skeletal Radiol. 2017;46(2):279–285.
Zundler S, Strobel D, Manger B, Neurath MF, Wildner D. Pancreatic panniculitis and polyarthritis. Curr Rheumatol Rep. 2017;19(10):62.