From Grand Rounds from HSS: Management of Complex Cases | Volume 12, Issue 2
Case Report
A 41-year-old man presented with a 15-year history of worsening axial low back pain and recent left leg pain. He described pain radiating from his lateral hip to lateral foot and his left foot "catching" while walking. He said he had tried 3 months of physical therapy without improvement. Physical examination was notable for decreased sensation along the left lateral foot and a positive straight leg raise test on the left side.
Radiographs of the lumbar spine demonstrated degenerative disc disease at L4–L5, with associated anterolisthesis (Fig. 1). Magnetic resonance imaging (MRI) confirmed Meyerding grade-1 spondylolisthesis at L4–L5 (Fig. 2). Given his progressive symptoms and radiographic evidence of lumbar instability, the patient was indicated for L4–L5 posterior decompression and fusion.

Figure 1: Preoperative lumbar radiographs with anteroposterior (A), lateral (B), flexion (C), and extension (D) views, demonstrating lumbar degenerative disc disease with unstable anterolisthesis of L4 on L5.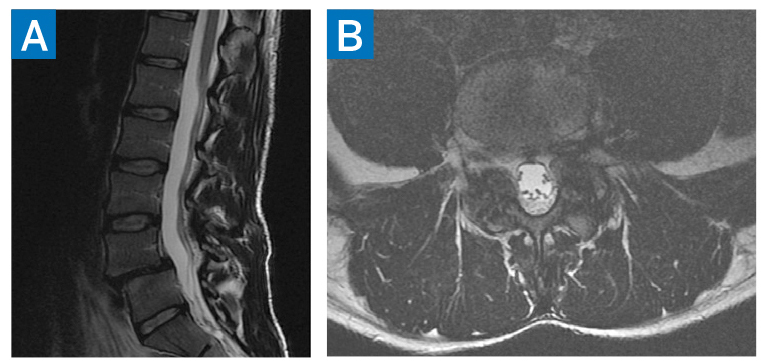 Figure 2: Preoperative MRI at the level of L4–L5 demonstrating spondylolisthesis in sagittal T2 (A) and axial T2 (B) sequences.
The patient underwent robotic assisted minimally invasive lumbar decompression and fusion with transforaminal lumbar interbody fusion (TLIF) cage placement. Intraoperatively, the patient was positioned prone and 3D Ziehm Vision (Ziehm Imaging) radiographs were obtained. Images were transferred to an Excelsius surgical robot (Globus Medical), and robotic planning was done intraoperatively for pedicle screw placement, tubular retractor placement, and interbody cage placement. First, percutaneous screws were placed in bilateral pedicles of L4 and L5. Muscle-sparing laminotomy, decompression, and L4–L5 discectomy were then performed via tubular retractor. Next, the interbody cage was trialed, placed, and packed with local and iliac crest bone autograft. Finally, rods were inserted percutaneously (Fig. 3).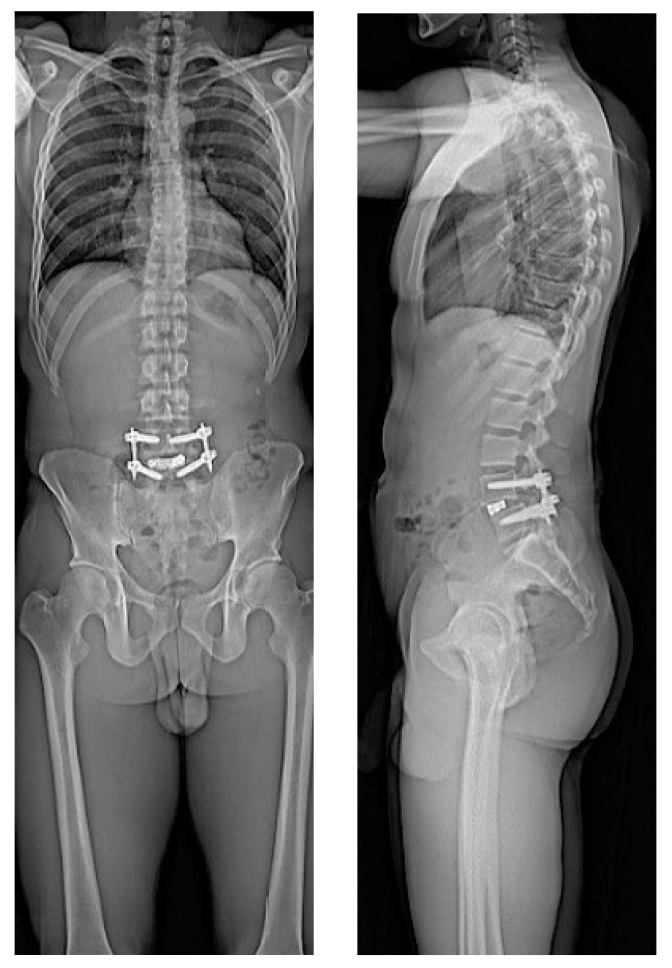 Figure 3: Postoperative standing radiographs demonstrating re-established disc height and lumbar lordosis.
Postoperatively, the patient's axial back pain and radicular symptoms resolved. At 1-year follow up he was pain free, and computed tomography (CT) scanning demonstrated successful interbody fusion.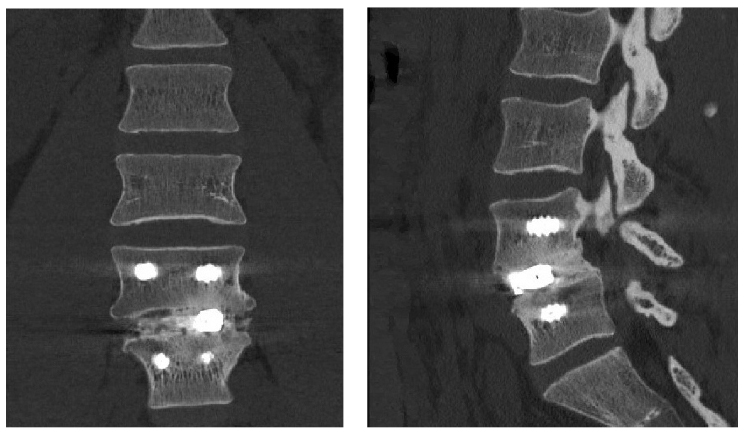 Figure 4: 1-year postoperative CT scan demonstrating successful interbody fusion at L4–L5.
Discussion
Spondylolysis is a common degenerative spine condition characterized by defects in the pars interarticularis. Prevalence of single-level spondylolysis has been estimated up to 11.5% in people with and without low back pain [1]. Instability caused by spondylolysis can lead to vertebral subluxation, called spondylolisthesis. Symptomatic spondylolisthesis can be treated with isolated decompression or decompression and fusion depending on the degree of instability and symptoms [2].
For patients with low-grade spondylolisthesis, minimally invasive approaches have been associated with lower intraoperative blood loss, shorter hospital stays, and improved functional outcomes when compared to traditional, open surgery [3,4]. However, the limited visualization associated with minimally invasive surgery can make accurate instrumentation and deformity correction difficult for surgeons early on a learning curve. Robotic-assisted navigation during minimally invasive spine surgery has been shown to significantly improve accuracy of implant placement and decrease implant revision rates [5–7].
In this case, the robotic-assisted minimally invasive approach for posterior fusion and TLIF in a patient with low-grade spondylolisthesis resulted in complete resolution of symptoms postoperatively. Although minimally invasive and robotic-assisted techniques have an associated learning curve, their improved accuracy can significantly improve patient outcomes.
Authors
Austin C. Kaidi, MD, MSc
Orthopaedic Surgery Resident
Hospital for Special Surgery

Sheeraz Qureshi, MD, MBA
Co-Chief, HSS Spine, Hospital for Special Surgery
Attending Orthopedic Surgeon, Hospital for Special Surgery
References
Kalichman L, Kim DH, Li L, Guermazi A, Berkin V, Hunter DJ. Spondylolysis and spondylolisthesis: prevalence and association with low back pain in the adult community-based population. Spine. 2009;34(2):199-205. doi:10.1097/ BRS.0b013e31818edcfd.
Niggemann P, Kuchta J, Beyer HK, Grosskurth D, Schulze T, Delank KS. Spondylolysis and spondylolisthesis: prevalence of different forms of instability and clinical implications. Spine. 2011;36(22):E1463-E1468. doi:10.1097/ BRS.0b013e3181d47a0e.
Ver MLP, Gum JL, Crawford CH, et al. Index episode-of-care propensity-matched comparison of transforaminal lumbar interbody fusion (TLIF) techniques: open traditional TLIF versus midline lumbar interbody fusion (MIDLIF) versus robot-assisted MIDLIF. J Neurosurg Spine. 2020;1-7. doi:10.3171/2019.9.SPINE1932.
Lu VM, Kerezoudis P, Gilder HE, McCutcheon BA, Phan K, Bydon M. Minimally invasive surgery versus open surgery spinal fusion for spondylolisthesis: a systematic review and meta-analysis. Spine. 2017;42(3):E177-E185. doi:10.1097/ BRS.0000000000001731.
Shafi KA, Pompeu YA, Vaishnav AS, et al. Does robot-assisted navigation influence pedicle screw selection and accuracy in minimally invasive spine surgery? Neurosurg Focus. 2022;52(1):E4. doi:10.3171/2021.10.FOCUS21526.
Schröder ML, Staartjes VE. Revisions for screw malposition and clinical outcomes after robot-guided lumbar fusion for spondylolisthesis. Neurosurg Focus. 2017;42(5):E12. doi:10.3171/2017.3.FOCUS16534.
Linden GS, Birch CM, Hresko MT, Cook D, Hedequist DJ. Intraoperative use of robotics with navigation for pedicle screw placement in treatment of pediatric high-grade spondylolisthesis: a preliminary report. J Pediatr Orthop. 2021;41(10):591-596. doi:10.1097/ BPO.0000000000001947.