Overview
Every year in the United States, millions of people with stiff and painful joints seek medical attention for a range of musculoskeletal conditions, most commonly related to trauma or osteoarthritis. Fortunately, many can be treated with conservative methods including proper conditioning, lifestyle changes, and medication. For others, a variety of surgical procedures including ligament and cartilage repair, osteotomy (joint realignment) and joint arthroplasty (joint replacement) may be necessary to relieve their pain and to allow them to resume their daily activities.

Many treatments used today have emerged from the collaborative efforts of biomechanical engineers and orthopedic surgeons. Beginning in the late 1960s, with the creation of the Department of Biomechanics, the Hospital for Special Surgery (HSS) became one of the pioneers in this important collaboration. "This department was created on the premise that orthopedics and biomechanical engineering really go hand-in-hand," says Tim Wright, PhD, Senior Scientist in the Hospital's Research Division and director of the current Biomechanics Department. "The musculoskeletal system is basically a mechanical system that orthopedic surgeons work with all the time."

The department serves a dual purpose at HSS, according to Dr. Wright. Engineers at the hospital educate residents and fellows on the mechanical consequences of both the conditions they will face and the choices they will make in treating musculoskeletal problems. In addition, surgeons often have ideas for better solutions, for example an improved joint prosthesis — solutions that require engineering expertise — and can work directly with a team of engineers with years of experience working in the field.

This exchange of ideas has expanded to include participation by the manufacturers of orthopedic implants and other biological materials. The practical outcome of these collaborations is new innovations and products that have the potential to significantly improve patients' lives. The integration with manufacturers and the transfer of technology from HSS to the market ensures that technological advances made at HSS can reach patients worldwide.

The development of the Insall-Burstein knee implant in the late 1970s provides an early example of this type of teamwork. John Insall, MD, an orthopedic surgeon, and Albert Burstein, PhD, a biomechanical engineer, built customized knee implants for a number of patients at HSS who required total knee arthroplasty. Based on the success of these implants they were able to create a generic system of knee prostheses suited to most patients requiring knee replacement. "Not only were the major components developed at the hospital," explains Dr. Wright, "but every screw, every wedge, every piece of plastic in the prosthesis was designed in our department." The hospital then reached an agreement with major manufacturers of joint implants, Johnson & Johnson and Zimmer, to produce and market the Insall Burstein Knee prosthesis. The Insall Burstein Knee and the subsequent technologically advanced designs made by HSS surgeons and engineers have subsequently been used worldwide with significant success.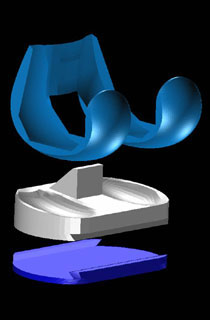 Insall Burstein Knee
Today, when engineers and surgeons at HSS have an idea for a product, collaboration with a manufacturer begins at a much earlier stage. "It's a win-win situation," explains Dr. Wright. "The hospital and the company bring different and complementary resources to the process." The Hospital can rely on the manufacturer to provide important engineering steps (for example, expertise in manufacturing and tolerances), eliminating the necessity to have those resources in-house.

Refinement of the knee replacement first designed by Ds. Insall and Burstein is a good case in point. In the late 1980s, for example, HSS and a company called Exactech began collaborating on the development of a new knee prosthesis. Dr. Wright and his colleagues at HSS and the manufacturer were able to integrate their ideas into practice. The goals of the team included improving the wear resistance as well as the function of the implant.
Dr. Wright and his colleagues have been researching the wear problem for more than twenty-five years, seeking to understand the engineering and design factors that cause small particles of the prosthesis to rub off, potentially causing inflammation, bone resorption, and ultimately the failure of the implant. Their research findings were incorporated in the new design. The result of their efforts has been a knee implant whose design is regarded as the "gold standard" for this procedure. This design, called Optetrak, is now used with great success in patients worldwide.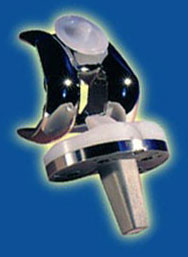 Optetrak knee prosthesis
| | |
| --- | --- |
| Osteoarthritic left knee | Optetrak knee replacement |
The collaboration that resulted in the knee replacement exemplifies the criteria that must be met before HSS will embark on such a project. First, according to Dr. Wright, there needs to be a surgeon "champion" for the endeavor, an expert with thorough understanding of the problem and with an innovative idea. In this case, that expert was Dr. Thomas Sculco, Surgeon-in-Chief of HSS. Second, the project must promise to yield a product that will provide substantial benefit to patients.

The efforts of the members of the Biomechanics Department and their surgeon colleagues are by no means limited to the knee joint. Over the years, they have designed implants for hip, shoulder, elbow, wrist and ankle replacement, and fixation devices to treat patients with fractured bones.

New and ongoing design projects include devices for spine problems such as degenerative disc disease and herniated discs. For degenerative disc disease, this includes work on artificial discs or disc replacements. In another project, a joint collaboration with Zimmer and an international group of surgeons, HSS engineers and surgeons designed a new anatomic hip replacement, intended to provide improved fixation to the patient's bone without the use of cement between the bone and the implant. The new design relies on years of experience with these types of implants and careful consideration of how and where loads are transferred from the implant to the bone.

With colleagues from the engineering school at Cornell University in Ithaca, NY, staff at HSS are also embarking on tissue engineering to improve healing and regeneration of bone and cartilage. New materials used on implant surfaces to strengthen attachment to the bone are also being investigated, as are the development of combination products that are composed of biologically active tissue and an inert implant component.

Another major focus of engineers and surgeons at HSS is the development of joint replacements for individuals in their 40s or 50s, a group Dr. Wright describes as "baby boomers who are accustomed to a very active lifestyle and don't want to modify their activities even after joint replacement." For researchers, this means creating an implant that can withstand very high loads (the forces borne by the joint) and high demand use. The challenge is to provide a more functional implant than would be required by a elderly patient, while also emphasizing implant designs capable of bearing these loads for as long as possible. To meet this challenge, the team is examining factors beyond the materials and the design of joint components, including how joint replacements interact with surrounding soft tissue and how the presence of the implant causes changes in the surrounding bone (the latter problem is being researched with Dr. Mathias Bostrom, another of the joint replacement surgeons at HSS).

For now, the solution for younger patients may lie in an implant that can function well and undergo high demand but may eventually need to be replaced. Experts anticipate a growing need for this type of prosthesis, with those under 65 comprising the fastest growing population of individuals requiring joint replacement.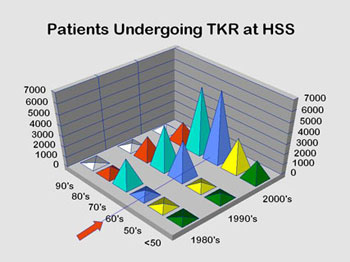 Those under 65 comprise the fastest growing population requiring joint replacement.
In all of these areas of research the team is guided by the goal of producing a product or material that will improve clinical outcomes. Of their collaboration with manufacturers Dr. Wright says, "We are always looking for ideas that are going to be worthwhile to patients. And commercial entities are always looking to HSS as a source of innovative solutions."
Updated: 9/28/2009
Diagnostic imaging examinations provided by HSS Radiologists
*Summary Prepared by Nancy Novick
Authors