Each year, HSS surgeons perform some 26,000 surgeries, including nearly 4,000 knee replacements. Safety is our top priority, and a specialized multidisciplinary surgical team follows treatment protocols and best practices to minimize the risk of post-operative complications, such as blood clots in the veins of the legs, a complication that can occur after knee replacement surgery.
A clot generally remains in the leg veins, but may break free and reach the lungs, where it becomes a potentially dangerous pulmonary embolism. Usually, blood clots are prevented with blood thinning medications (anticoagulant therapy), compression devices, and getting out of bed soon after surgery.
Committed to continuously improving surgical safety, HSS anesthesiologists and orthopedic surgeons are collaborating on several studies to further reduce the risk of clot formation.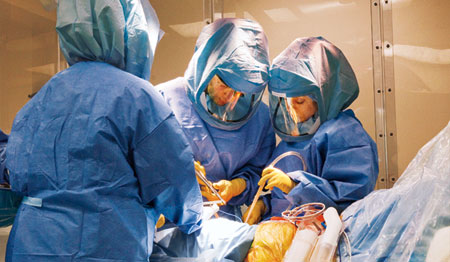 Reducing Clotting Risk
HSS orthopedic surgeon Edwin Su, MD, HSS anesthesiologist Nigel Sharrock, MD, and colleagues are comparing markers of blood clot formation in three different groups of patients: those undergoing simultaneous bilateral (double) knee replacement, single total knee replacement, and partial knee replacement. Their work builds on previous evidence that showed an increased risk for clotting with double knee replacement versus single replacement surgery.
"If our findings show a reduced risk for clots with partial knee surgery as well, we may be able to use less potent anticoagulant therapy with these patients," says Dr. Su. Physicians strive to use the lowest possible effective dose of anticoagulant therapy to minimize the risk of excessive bleeding that can occur with these medications.
Hydrocortisone May Help
In a separate study, HSS anesthesiologist Kethy Jules-Elysee, MD, working with a team including Surgeon-in-Chief Thomas P. Sculco, MD, is exploring the role of low dose hydrocortisone treatment in reducing the risk of post-operative clot formation in patients with knee replacement.
In an earlier stage of their research, the team found that low doses of hydrocortisone controlled levels of IL-6 in the bloodstream – a substance that is released as part of the inflammatory response to surgery. Keeping IL-6 levels low is important because IL-6 activates specific clot-forming markers, so reducing these levels can lead to a reduction of blood clot formation. In the current study, levels of these clot-forming markers are measured in knee replacement patients receiving hydrocortisone therapy over a 24-hour period, beginning two hours before surgery.
Unexpected Benefits
Says Dr. Jules-Elysee, "In addition to potentially interrupting the cascade of reactions that results in clotting, short-term low-dose hydrocortisone therapy has been shown to result in less post-operative pain and fever. It may also protect against lung injury, another potential complication." The physicians also observed a trend toward an increase in the body's natural ability to prevent blood clots, called fibrinolysis, and improved range of motion in the knee following surgery.
"Collaborative studies like these reflect the medical team's commitment to safety," says Dr. Sculco. "They answer practical clinical questions, which benefits patients greatly."
Learn more in HSS's biannual publication, Discovery to Recovery.
Posted: 3/8/2012
Related articles