Inpatient Rooms
Many patients who stay overnight choose to stay in semi-private rooms. Semi-private rooms are occupied by two patients of the same gender and similar procedures. Inpatient private rooms are available at an additional cost. Even though private rooms are limited and based on availability, we will do our best to accommodate your request. At HSS, we offer four types of private rooms: Classic, Classic Select, Premier and Premier Select. The Premier and Premier Select rooms located on our 11 North unit feature a larger seating area and an additional set of amenities.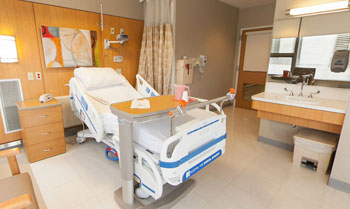 Take a tour of a private patient room (Classic Select)
Also note: due to clinical needs, there are different procedures and visitation policies for the Recovery Room (PACU) post-surgery.

Parking
Since street parking in Manhattan is very limited, it may be necessary for a car to be parked in a commercial garage. While HSS does not validate parking at this time, we recommend you review our HSS Parking Guide for a list of nearby parking garages that offer discounts at various times of day.

HSS Neighborhood Guide
We understand that while you are in New York City you may need a range of services. Our HSS Neighborhood Directory has everything from restaurants, entertainment, local neighborhood resources and a whole lot more.

Tourism & Area Attractions
Download our Area Attractions Guide to keep you or your family entertained while visiting HSS on the Upper East Side of NYC!

Frequently Asked Questions (FAQs) - During Your Stay
Find a Physician
Hotels
Transportation
Maps & Directions
FAQs - Before Your Arrival
Inpatient Rooms
Parking
Tourism & Area Attractions
In and Around New York City
FAQs - During Your Stay
Case Management
Physical Therapy & Rehabilitation
Share Your Story
FAQs - After Your Visit
Contact Information
HSS Coast to Coast (C2C) Program
Tel: 212.606.1610 (Mon – Fri, 9:00am – 5:00pm ET)
Email: C2C@hss.edu
Ambassador Services Department
Hospital for Special Surgery
535 East 70th Street, New York, NY 10021
If you live in Florida, please contact Tania Mercado, our Ambassador Services Florida Liaison for assistance. Call 561.469.5599, Email: mercadot@hss.edu. For more information, visit our Ambassador Services Florida website.