Complete your required screening using Health Pass by CLEAR

Health Pass by CLEAR is the quickest and simplest way to complete your required health screening survey and to upload your vaccination information. Please be sure to download the CLEAR app and complete your required health screening before you arrive at HSS. You can enroll once and use Health Pass at every visit.
Step 1: Download the free CLEAR app

Step 2: Create an account

Tap on the white Health Pass tile. Create a free account by uploading a photo of a government-issued ID such as a driver's license and snap a quick selfie to confirm you are you. Already a member? Login and verify with just a selfie.
Tap HSS and select if you are a patient or a visitor.

Step 3: Add proof of vaccination / upload test results

Add your proof of vaccination or negative COVID-19 test to speed your entry. Watch this video for instructions on adding your proof of vaccination in the CLEAR app.
For proof of vaccination, you can securely link to a health provider, scan a SMART QR code, or upload your CDC card. To add a negative COVID-19 test, securely link to your test provider or upload a photo/PDF of your results.

Step 4: Complete your required health survey

Step 5: Show your green pass at the entrance

A

green

Health Pass means you're good to go! Show it to the HSS screener for expedited entry when you arrive. If your pass is

red

, please call your HSS provider.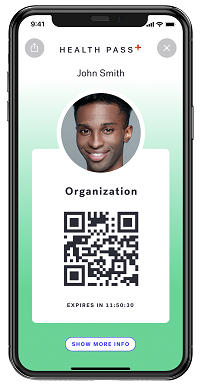 Health Pass by CLEAR is secure and safe
With CLEAR, you are always in control of your information. HSS only receives confirmation that a patient or visitor satisfied the requirements for access with the equivalent of a red or green result — and never has access to an individual's private health data through CLEAR.
CLEAR's platform is SAFETY Act Certified and earned FISMA-High status – the highest cybersecurity ratings by the Department of Homeland Security and Transportation Security Administration. See the member terms for further information on how CLEAR protects user data.
Use CLEAR at other venues
You can also use the proof of vaccination anywhere the vaccine pass is accepted, including at event venues, airports and as proof of vaccination at bars and restaurants in New York City.
Frequently asked questions
In the News