February 2012
HSS Campus Update: Recent Additions
HSS continually strives to provide unsurpassed care in our specialty areas. The ongoing modernization and expansion of the Hospital's campus allows us to sustain excellence in musculoskeletal care while meeting the growing demand for our services.
In the main Hospital building:
Two new patient care units with centrally-located nursing stations were recently opened (pictured below).
The HSS pharmacy was expanded and relocated to the new 9th floor.
The CA Technologies Rehabilitation Center opened – the first stage of the Lerner Children's Pavilion, which will be completed in 2012 to accommodate the growing number of children coming to us for pediatric care.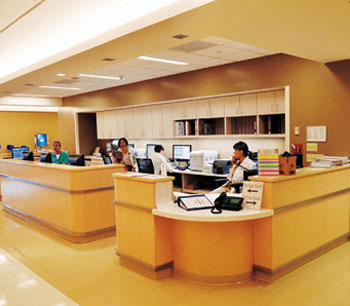 New patient are unit with centrally-located nursing station.
On East 72nd Street:
HSS expanded its Ambulatory Care Clinics and relocated them to East 72nd Street and York Avenue. The new clinics offer more convenient street access for patients with limited mobility, as well as additional exam rooms, on-site social services, clinical and support staff, and 1,250 square feet of space dedicated exclusively to diagnostic services.
On East 75th Street:
HSS opened an easily accessible outpatient center, housing the Physiatry and Pain Management Departments, on East 75th Street between 1st and York Avenues. Devoted to the non-operative management of musculoskeletal conditions, this 30,000-squarefoot facility includes space for clinical care, diagnostic services, procedure rooms, research, education, and physician office.
May 2011
Expansion and Renovation: A New Pediatric Rehabilitation Center
As part of our continuing commitment to patient care and an increasing demand for our services, two years ago HSS embarked on a major expansion and renovation project to add a three-floor 62,000 square foot addition to the east wing of its main hospital building.
The project, which started in November 2009, will be completed and occupied in August/September of this year at an approximate cost of $69 million.
The tricky challenge - building over the FDR Drive along the East River, on an extremely tight narrow site and with a hospital that continues to be fully operational below the construction - makes for a level of difficulty above and beyond most projects.
The new floors, 9 through 11, will accommodate two additional inpatient bed units, as well as new and expanded space for the Pharmacy Department. There will also be a 12th floor equipment room.
A highlight, which is scheduled to open in September, will be the "CA Technologies Rehabilitation Center," an expanded outpatient pediatric rehabilitation complex that will occupy over 7,000 square feet - more than double the space of the current facility.
The Rehabilitation Center will include a physical therapy gym for children and adolescents; dedicated therapy rooms for developing babies' and children's fine motor skills; a suite of rooms for speech therapy; an occupational therapy gym with a dedicated room for sensory integration therapy that facilitates movement in space, such as climbing and swinging; an equipment clinic that specializes in wheelchair and mobility needs; a special cardiovascular fitness equipment to help children with impaired mobility develop endurance; and recreational toys and virtual reality software for physically challenged children to improve balancing skills.
Special Surgery is one of the only hospitals in the country that offers a full range of pediatric orthopedic rehabilitation services for children with complex orthopedic conditions. The facility will enable HSS to continue to meet the special needs of the more than 17,000 pediatric rehabilitation patient visits each year.
The CA Technologies Rehabilitation Center will be part of the planned Children's Pavilion at Hospital for Special Surgery, which is scheduled to open in 2012.
January 2011
Metal Siding, Plumbing, Painting
During the month of January, curtain metal siding on the penthouse, sprinklers, and plumbing near competition; sheetrock, millwork, and interior painting continued.
December 2010
Walls, Framing, Roofing, Electrical, Painting
During the month of December, curtain wall installation, interior framing, and roofing were near completion. Electrical work continued, and interior painting commenced.
September 2010
Driveway Renovations
The Driveway and main Hospital entrance will be closed at various intervals for driveway renovations and improvements.
July 2010
Sheetrock, HVAC, Plumbing, Electrical
During the month of July, sheetrock installation commenced; plumbing and HVAC work continued; and electrical work was 50 percent completed.
June 2010
Driveway Renovations
The Driveway and main Hospital entrance will be closed from 9pm Friday, to 4am Monday each weekend over the summner for driveway renovations and improvements.
The driveway will be closed every weekend for the next 3 1/2 months. (June 11 through September 30). On the weekdays, the construction will be done in phases and the driveway will remain open.
May 2010
HVAC, Plumbing, Electrical
During the month of May, HVAC (Heating, Ventilating and Air Conditioning) work commenced; interior framing, plumbing and electrical work continued; and roof construction was near completion.
March 2010
Renovating the HSS Driveway and Entrance
In April, the HSS driveway will undergo a major facelift and renovation. This project will provide improved lighting; upgraded materials on the driveway and sidewalks; and new signage.
The project is scheduled to be completed at the end of September. The outside entrance will have the look and feel of our newly expanded and renovated main lobby. This project will be done in phases and will require periodic closing of the driveway on weekends and overnight.
A more detailed schedule will be published over the next few weeks.
February 2010
Core Drilling, Elevators and Stairs
During the month of February:
Delivered and loaded hollow metal door frames on floors
Continued core drilling for fuel oil and electrical risers in existing hospital building
Completed exterior scaffolding and elevator shaft
Framed and closed-in south stair tower and north stair tower/elevator shaft areas
Rigged and set generator in penthouse.
The project continues on schedule and on budget.
January 2010
New Additions
During the month of January:
The materiel and personnel hoist was installed on 70th Street
Miscellaneous structural steel items were completed
High roof drains and storm water piping were positioned
Spray-on fireproofing was completed on the 9th floor.
The project continues on schedule and on budget.
December 2009
Erecting Steel
During the month of December, structural steel erection continued. The rooftop crane was removed and a street-crane on 70th Street was assembled for the balance of the steel erection. The pouring of concrete took place to complete the 11th and 12th floor slabs. The project continues on schedule and on budget.
November 2009
"Topping Out" and Pouring of Concrete
HSS held a "topping-out" event Thursday, Oct. 15, for the expansion project to celebrate adding three new floors atop the main hospital building. Hospital executives, trustees, physicians, staff, and representatives from neighboring institutions attended the ceremony.
Also, to commemorate the project, attendees signed a construction beam before its permanent placement.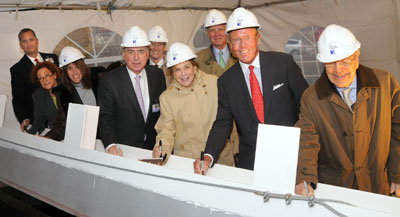 From left, Louis Shapiro, Connie Margolin, Stacey Malakoff, Barrie Damson, Charlton Reynders, Marylin Levitt, Kendrik Wilson II, Dean O'Hare, and Aldo Papone sign the beam
During the month of November, with structural steel being completed, the pouring of concrete began. If you look up, you should still be able to see the white ceremonial beam in place that was signed during the topping-out event. The project continues on schedule and on budget.
October 2009
HSS Responds to Increase in Demand for Services – Building Begins!
Patients are seeking Special Surgery's services in record numbers, with a rise of more than 60% in the past decade. So far in 2009 there has been an increase of almost 10% inpatient admissions when compared to the same time period last year. To meet this demand and continue to provide world-class care, Special Surgery embarked on a plan to create more operating rooms; more patient rooms; and better access to ancillary services.
Thanks to the generosity of our dedicated Board, medical staff, grateful patients and friends, Building on Success: The Campaign for the Future of HSS has enabled us to embark on the next critical phase in the expansion of our facilities. This summer, the building expansion kicked off with three new floors over the East Wing. The goal is to expand without interruption to patient care.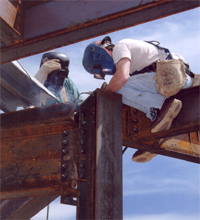 "This is an exciting time for Hospital for Special Surgery with changes in many different areas to better accommodate patients and their families," said Louis A. Shapiro, President and CEO. "The construction project is vital to our ability to continue to provide the first rate patient care for which HSS is so well known," he continued.
A new ninth floor will serve as the home for HSS's renowned pediatric rehabilitation department. Features will include a large physical therapy gymnasium that will overlook the East River and facilities for occupational, fine motor skills, sensory integration, and speech therapies. Another feature of the ninth floor will be a relocated and enlarged Hospital pharmacy.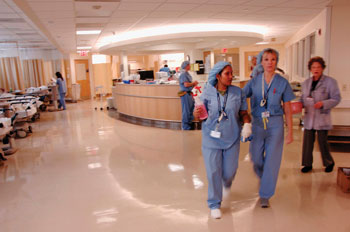 Plans for the Hospital's new tenth and eleventh floors include the addition of an inpatient unit, which will include private rooms as well as rooms designed to accommodate two patients. These units will provide patients with the best possible environment by locating the patient rooms around a central staff/support core and providing each room with river-oriented views.
Approximately 80% of Americans aged 65 and older suffer from a chronic condition, such as arthritis, that imposes limitations on their day-to-day lives. This segment of the population is rapidly growing, and will represent nearly 20% of the total U.S. population by 2030.
"The additional space will allow HSS to stay ahead of the curve and will ensure that the patient experience is an even better one," said Lisa Goldstein, Chief Operating Officer.
Other Improvements
Additional important renovations to enhance the patient experience are continuing throughout the Hospital to complement the major construction.
The Pain Management Center has been relocated to the seventh floor of the Belaire building in a newly-designed space that maximizes efficiency and provides a peaceful environment for our patients. The Center is now in the same location as the offices of our six pain management physicians, making it easier to access for more than 6,000 pain management patients each year who seek our help.
Renovations to the third floor have occurred in stages to limit any interruptions to patient care. A major improvement to (continued on page 8) this area is the expansion of pre-surgical screening. The great majority of patients are cleared for surgery in this area. The new pre-surgical screening area is 4,200 square feet, nearly twice the previous size. With nine exam rooms and five admitting bays, it will be able to accommodate up to 150 patients per day, offer greater patient privacy, improve efficiency and reduce waiting time.
The Hospital lobby and main entrance have been redesigned and expanded and offer some new features. When patients and visitors arrive at the Hospital they enter a bright new lobby with an expansive wall made of glass, providing the space with a feeling of openness. Expanded seating areas are accented by light colored woods and ceiling panels. The area also contains a new reception desk, coffee kiosk, and patient transport area as well as a prominently featured donor wall.
A Children's Pavilion, HSS's new musculoskeletal pediatric "hospital within a hospital," will span the East and West Wings of the fifth floor and include the Pediatric Rehabilitation Center on the ninth floor. The 34,000 square feet of renovated and newly-constructed space will address the specialized needs of families with small children and adolescents alike, in a warm, cheerful environment designed specially for young patients.
A Center for Hip Preservation was established this year with the goal of treating young, active adults suffering from hip pain. The Center includes surgeons and non-operating physicians all focused on preserving the hip joint over the long term.
The Sports Medicine and Shoulder Service is also undergoing a renovation which will create a more sports-centered environment for doctor visits and therapy appointments, as well as for those who visit the Sports Performance Center. The addition of an eighth MRI in the Hospital is scheduled for later this year. "All of these improvements allow us to meet the Hospital's mission – to provide the highest quality patient care, improve mobility, and enhance the quality of life for all," said Thomas P. Sculco, MD, Surgeon-in-Chief. 
December, 2006
Demand for Musculoskeletal Care Spurs Expansion
Hemmed in hard by the East River, Hospital for Special Surgery opened surgical facilities within an innovative new setting, built nine stories above one of Manhattan's busiest highways.
The newly completed ninth floor includes features designed to enhance the hospital experience for the growing number of ambulatory surgery patients seeking excellent care, a return to pain free mobility and the resumption of activities ranging from walking to acrobatics.
The new floor, equipped to serve also as a global digital teaching facility with advanced videoconferencing components, holds eight new outpatient operating rooms to address the steady increase in demand for specialized musculoskeletal care. More than 22,000 surgical procedures are now performed annually at Hospital for Special Surgery and half of them are ambulatory, that is, the patient goes home at the end of the day.
"In the ten years since our last expansion, outpatient and surgical volumes have increased by almost 60 percent and we've recruited 65 new physicians," said Thomas P. Sculco, MD, surgeon-in-chief at Hospital for Special Surgery. "This unprecedented growth is being fueled by a growing group of people in their 60s and 70s and an increasingly active general population at risk for sports injury. There has also been a rising demand for specialty procedures that is expected to continue into the next decade, making this expansion essential."
Completion of this phase of the project, which adds 85,000 square feet of new space and 100,000 square feet of re-engineered and re-designed space, required a total expenditure of $64 million. The expansion allows for increased patient bed capacity and ambulatory surgery operating rooms, which frees space in inpatient surgery operating rooms, as well as for new equipment, administrative offices and general support space.
Design to Promote Safety and Healing
"Our location made this project a construction and design challenge," said Dr. Sculco. Hospital for Special Surgery is built over the Franklin Delano Roosevelt Drive (FDR) to the east and is surrounded by other buildings to the north, south and west, which left us with nowhere to grow. As is often the case in Manhattan, we looked to expand vertically. But even this was not easy. We added a floor above the eight-story building, which was incredibly difficult because the construction occurred on top of a busy hospital over one of the city's most well-traveled highways."
"Not only did we meet this incredible logistical challenge but we were able to do it all while operating at full capacity. Fortunately, physicians, nurses, other health professionals and administrators collaborated to meet this challenge to continue efficient and effective care environments without interruption, "said Dr. Sculco.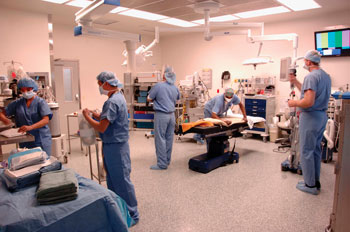 The new ninth floor is composed of eight new surgical suites dedicated to outpatient surgery, including sports medicine procedures as well as surgical procedures of the hand and foot. The new surgical suites have hi-tech features like three flat panel television monitors per operating room so that the intricacies of surgical procedures can be viewed by everyone in the room, at any given time. Another hi-tech feature is the boom, the focal point of each operating room. The boom is a fully-adjustable and fast swiveling pendant that is anchored at the foot of the operating bed and holds all of the tools, electronic equipment (drills, saws, etc.) and much of the room's digital technology. The boom replaces the rolling carts that were previously used to hold tools and equipment and frees up valuable floor space. The boom swings 10 feet to the left and right of the patient, so it is accessible to everyone working in the room. Keeping everything in a central location on the boom and off the floor has been shown to improve efficiency.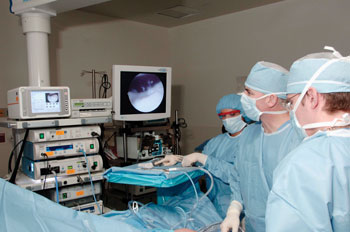 These surgical suites were designed with features to ensure patient privacy. Each patient will await surgery in a private room, where family members or friends can accompany them. In this room, patients will meet with their surgeon for a pre-surgical consultation where confidentiality is assured. In addition, the surgical waiting rooms have been redesigned for the comfort and ease of patient families. The new family/guest waiting room looks out over the East River. After surgery, there are postoperative recovery rooms, which were also designed with patient privacy in mind. As the day goes on and more people are recovering from surgery, some of the pre-operative rooms can be transformed into post-operative recovery rooms as dictated by patient volume.
Patient safety is a top priority. In an effort to enhance the hospital's widely respected infection control efforts, a larger and more contemporary central sterile supply department was constructed. This new unit is located on the seventh floor with separate elevators dedicated to transporting sterile and non sterile supplies to and from surgical suites on the fourth and ninth floors.
The eighth floor will also add 30 new inpatient beds. These new patient rooms – both semi-private and private – were designed to create a soothing environment. Each patient room features eight-foot windows that provide both patient beds magnificent and unobstructed views of the East River.
"Our patients always tell us they love the river views," said Stephanie Goldberg, R.N., vice president for nursing at Hospital for Special Surgery." When you are high above the city looking out at the tug boats and the bridges, it takes your mind away from whatever problem brought you here."
The hospital added other touches to create a calming environment such as linens and fabrics in warm colors, art that hides clinical equipment and wall sconces that provide soft lighting. These decorative touches were selected to give patients a sense of serenity and peace of mind. Ms. Goldberg went on to say that the rooms are designed to feel more like home than a hospital.
Dr. Sculco added that patients at Hospital for Special Surgery are treated by some of the most talented physicians and surgeons in musculoskeletal medicine. "Our goal is to continue to improve the care environment to focus on each patient's recovery and rehabilitation."
Patient Education Leads to Improved Outcomes
The hospital's eighth floor has been reconfigured to accommodate additional clinical and nonclinical space including:
Inpatient rooms
Patient care and quality management
Executive office and administration
Medical staff services
Legal affairs
Professional development
Resident's lounge
The hospital's award winning pre-operative patient education programs will be held in new conference rooms on the eighth floor. These programs provide detailed information to prepare a patient for surgery and cover such topics as: what to bring with you to the hospital, what to expect the morning of surgery and during recovery, and resources and expectations regarding pain and pain management. These programs are credited with reducing length of hospital stays and improving patient safety. Hospital for Special Surgery received New York State's first Hospital Patient Safety Award for its best quality initiatives aimed at improving patient safety and reducing medical errors.
"Our pre-operative classes are a hallmark of this institution, and of great benefit to patients," said Ms. Goldberg. "The additional space ensures that these programs will continue to thrive and serve as models for other hospitals around the world."
Looking to the Future
A new imaging suite will be constructed in the space that was formerly occupied by central sterile supply before it was moved to its new location on the seventh floor. This suite will increase the total number of magnetic resonance imaging (MRI) machines from five to seven, making Hospital for Special Surgery the nation's largest academic imaging center dedicated to musculoskeletal health.
August, 2006
HSS Reaches for the Sky - Construction News
In the past decade, Hospital for Special Surgery has seen a substantial increase in demand for its specialized services. Requests for the Hospital's orthopedic, rheumatologic, and imaging procedures are on the rise and surpassing the national average for orthopedic hospitals. With such significant growth expected to extend into the next decade, HSS is expanding its facilities to accommodate this increase in patient capacity.
In May 2005, HSS began adding space to the 5th, 6th, 7th, 8th, and 9th floors of the West Wing and an 8th floor to the East Wing. This first phase of the Major Renovation and Expansion Project is nearly complete, and you will begin to notice some changes in the coming months.
The scope of this major building project calls for additions in bed capacity, inpatient and ambulatory surgery operating rooms, imaging modalities, physician offices, and general operating and support space. With our current facilities, on most days more than 90 percent of the available beds are occupied. On peak occupancy days, bed usage has typically been greater than 99 percent.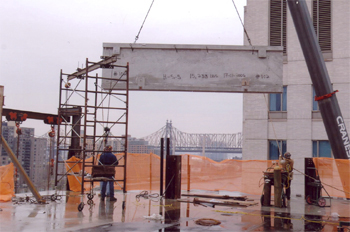 Overall, HSS will renovate more than 73,000 square feet of the main building. Two additional inpatient units will be added, for a total of 42 beds. Six inpatient operating rooms on the 4th floor and three on the 9th will bring the count up to a total of 29.
In addition to increasing patient capacity, the expansion will allow for a more efficient and effective care environment. New floor plans that include additional elevator banks and relocated locker and storage rooms are configured for staff convenience.
This summer, the following departments will be relocated to the 8th floor:
Patient Care & Quality Management (from the 1st Floor)
Executive Office & Administration
Medical Staff Services
Legal Affairs
Professional Development
A new Resident's Lounge