3. Alternating reverse lunges. Reverse lunges help work all of your leg muscles, while protecting your knees. Start with your feet together, step one foot back behind you until both knees are at a 90-degree angle, then step forward to stand. Repeat on the other side.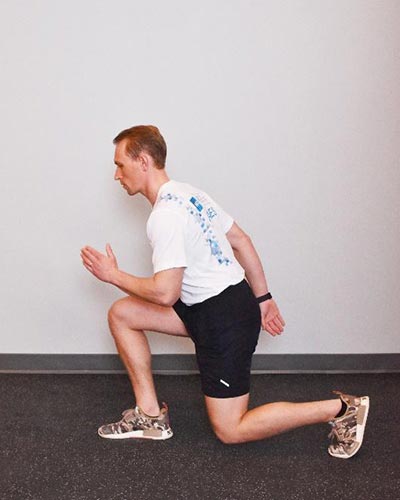 4. Rest.
Final Round
To complete the 20-minute session, perform all exercises from A, B and C straight through. Do each exercise for 20 seconds, followed by a 10-second rest.
Workout #2 — Strengthen and Tone (20 minutes)
For this workout, you can use your body weight or small dumbbells. If you don't have dumbbells, you can substitute cans of soup, bottles of water or bags of rice.
This routine has six different exercises, which you can perform three times each to build a full 20-minute workout. Do each exercise for 40 seconds, followed by 20 seconds of rest while you get your body into position for the next one.
Start and finish your session with a 45-second plank.
1. Squat with reach or squat press (with or without weights). From a squat position, raise up onto your toes and bring your arms straight above your head, like below. Adding arm movements to squats increases heart rate and helps to strengthen your arms and shoulders.