Alumni News: The Magazine of the HSS Alumni Association
Alumni Usher in New Era of HSS Leadership: Fall 2019 Issue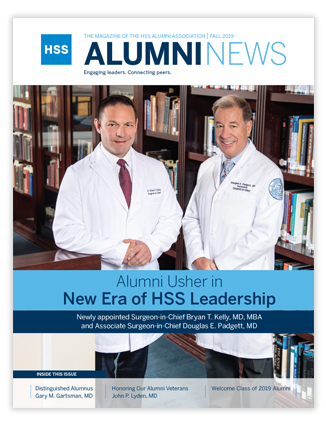 Read the Fall 2019 Alumni News
Highlights in this issue:
HSS Alumni Usher in New Era of HSS Leadership
Distinguished Alumnus Gary M. Gartsman, MD
HSS Alumni Association at the 2019 AAOS Annual Meeting
Hometown Heroes, Honoring Our Alumni Veterans–John P. Lyden, MD
In Memoriam, Charles L. Christian, MD, and Aaron S. Posner, PhD
HSS Abroad, A Fifth-Year Resident Is Surprised by What She Finds in Ghana
And more!
Alumni News Archive
Past issues of Alumni News are available upon request. Please email us at alumni@hss.edu.