Alumni News: The Magazine of the HSS Alumni Association
Alumni Reflections Across the Years: Spring 2020 Issue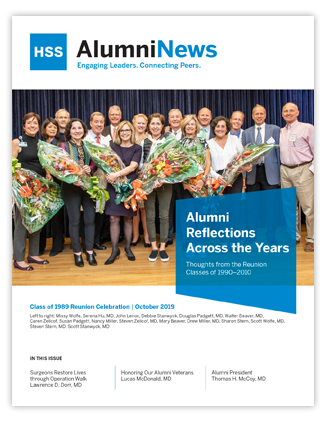 Read the Spring 2020 Alumni News
Highlights in this issue:
Alumni Reflections Across the Years
Surgeons Restore Lives through Operation Walk
Honoring Our Alumni Veterans
Alumni President Thomas H. McCoy, MD
101st Annual Alumni Meeting Notes and Photo Gallery
Awards & Accolades
And more!
Alumni News Archive
Alumni News Fall 2019
Alumni News Spring 2019
Past issues of Alumni News are available upon request. Please email us at alumni@hss.edu.