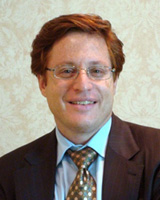 Baron Lonner, MD
Fellow 1995
How does it feel to be honored by HSS as the Andrew N. Swanson, Memorial Spine Award Recipient?
When I was notified that I would receive this award, I was truly honored and humbled. I knew Andrew Swanson from our work together in Ghana as part of the FOCOS mission caring for scoliosis patients with Dr. Boachie. I have been to Ghana on 6 occasions, performing operations and helping to train local surgeons, and I had the pleasure of getting to know Andrew on one trip a number of years back. He was a terrific young surgeon with a great deal of compassion, wit, humility, and passion who left this world way too soon. He was a great teacher. I have been practicing spine surgery for 20 years, focusing in the area of scoliosis care. I feel that my pursuits in the areas of patient care, teaching, research, and medical mission work have been recognized by me being given this award.
When did you decide to pursue orthopaedics?
I have always been interested in the performance of the human body, its form and function, which perhaps stems from my passion for participation in sports. This, for sure, is what led me to be interested in pursuing a career in orthopedic surgery. When I was a medical student at Boston University in the 6-year Medical Program in my second year, I realized it would be important for me to gain knowledge and experience in the field of orthopedic surgery through research as a means of confirming my genuine interest in this area. I was fortunate to have the opportunity to perform research with Dr. John Hall of Boston Children's Hospital, Harvard's pediatric hospital. Dr. Hall was one of the driving forces in modern scoliosis surgery. I performed research on the surgical treatment of congenital scoliosis with Dr. Hall and Dr. Michael Millis, work that I later presented at the Scoliosis Research Society. This two-year period of time, in which I performed research and attended conferences while completing my medical school studies, cemented my fascination with the spine and, in particular, the care of the patient with scoliosis and my desire to pursue a career in orthopaedic surgery.
What do you love most about HSS?
HSS is the top orthopaedic hospital in the world for a reason. The individuals that comprise the staff of the hospital from the housekeepers to the nurses, to the administrators, and to the physicians and surgeons all strive for excellence. It truly is a special place.
What is your favorite memory of your HSS?
I performed my fellowship in 1994-1995 on the Spine and Scoliosis Services. There was not one specific memory, but I really enjoyed my experience at HSS during that year. I enjoyed scrubbing with my mentors including Drs. Boachie, Cammisa, and O'Leary. I enjoyed the conferences and the camaraderie of the residents and my co-fellows. We learned a lot, we helped take care of the patients, and we had a lot of laughs. I enjoyed a weekend at the Rockefeller estate and the many gatherings outside of the hospital.
What do you do in your spare time?
Spending time with my two sons is the ultimate activity for me. I also enjoy exercise and challenging myself physically and mentally. I have run two marathons and swim quite a bit. My longest swim was 6 miles, off the shore of Coney Island in Brooklyn. That was a 4-hour swim. One of the most fun days of my life was participating in the Escape from Alcatraz Triathlon a couple of years ago in San Francisco in which contestants jump off of a ferry near Alcatraz Island, swim 1.5 miles in San Francisco Bay, bike 18 miles, and then run 8 miles up and down the hills of San Francisco. Perhaps I will tackle a large body of water in the coming years…