Elaine Walsh, MSN, ONC, ANP-BC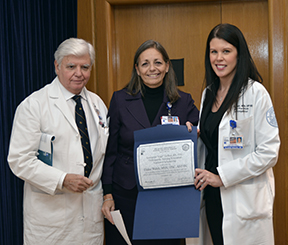 Elaine Walsh, MSN, ONC, ANP-BC, receiving her award at
the 94th Annual Alumni Meeting from
Thomas P. Sculco, MD and Laura Robbins, DSW.
Elaine Walsh, MSN, ONC, ANP-BC has been a practicing nurse for the past 10 years, of which 8 have been at HSS. Throughout her time at HSS, she has served as a clinical preceptor for new nurses and staff members. Currently, as an Adult Nurse Practitioner, she speaks at the nurse orientation sessions to inform incoming nurses of the importance of anticoagulation in the orthopaedic patient. She is an active member of the hospital chapter of the NAOS, and has served as a peer reviewer for the orthopaedic nurses' core curriculum. She is greatly honored for the opportunity to attend the AAOS Annual Conference to learn about the next generation of orthopaedic care, and her attendance will help her grow as an advanced practice provider to better serve the population of orthopaedic patients at HSS.