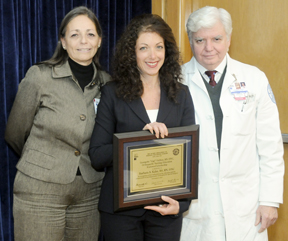 Barbara A. Kahn, RN, receiving her award at
the 92nd Annual Alumni Meeting from
Thomas P. Sculco, MD and Laura Robbins, DSW.
Barbara A. Kahn, RN, ONC began working as a staff nurse under Gigi's mentorship at Beth Israel North Medical Center in 1992. She joined the HSS team as Dr. Sculco's Nurse Clinician 15 years ago and has since transitioned to working with Dr. Figgie and Dr. Windsor. Barbara continues to be an integral part of implementing nursing protocols at HSS, developing patient and staff guidelines, as well as patient education materials. Through her collaborative research on multiple orthopaedic related topics, Barbara exhibits the characteristics Georgette Viellion, RN, ONC, embodied.